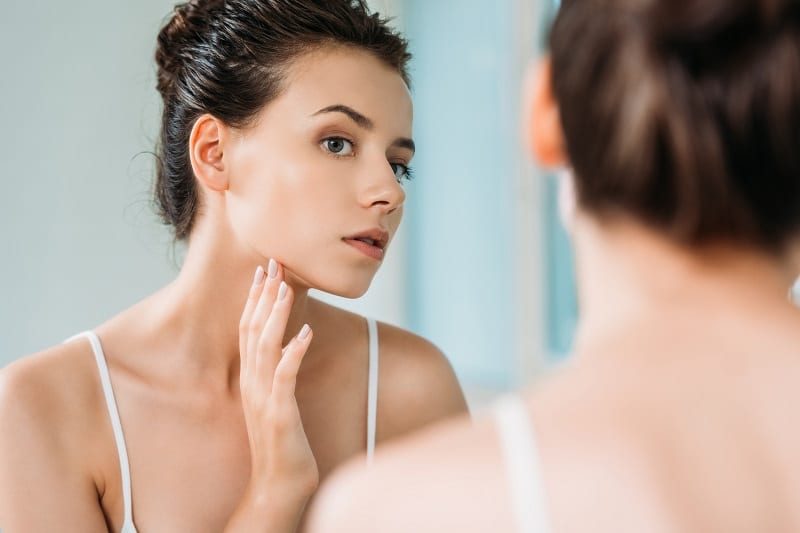 Many of us forget that our skin is a continuous, self-renewing organ (our largest organ in fact). The quality of our diet and our environment play a role in the health of our skin, but so does stress! This has undoubtedly been a very stressful time. Stress causes inflammation and hormonal shifts, which can result in acne outbreaks, eczema flare-ups, the over production of oily skin or conversely dehydration resulting in dry skin. Stress effects everyone differently. Read on to learn how you can take simple measures for beautiful, healthy skin.
Hit Refresh on Your Skincare Routine
If you're noticing acne flare-ups or dry, flaky skin, it may be time to reevaluate the type of products you're using. At RejuvenationMD we always recommend bringing in your skincare products when you come in for a consultation, but if you can't come in let's set up a video consultation and we can ship you the products you need to balance your skin's needs (shipping is free all of April).
Exfoliate with Chemical Peels or Dermaplaning
Regular exfoliation is an essential part of maintaining healthy, beautiful skin. Without exfoliation, dead skin cells accumulate and cause your complexion to look dry, uneven, and dull. Build-up prevents proper skincare absorption and can also contribute to breakouts.
Cosmetic medical-grade peels work to exfoliate the outermost layer of the epidermis using a gentle chemical solution to promote faster skin cell turnover. And, Dermaplaning (safe for most skin types) uses a fine blade to exfoliate up to 3 weeks of dead skin cells and unwanted peach fuzz! Both treatments reveal a brighter, smoother complexion, allowing for better penetration of skin care products.
Improve Texture, Tone, and Radiance with Halo™ Pro or MicroLaserPeel®
A MicroLaserPeel treatment removes the superficial layers of skin, treating age spots, fine lines, acne marks, and more. It provides immediate, lasting results with minimal discomfort. Halo™ Pro hybrid fractional laser is also a great option. Halo Pro can be adjusted for light or intense facial rejuvenation, treating melasma, hyper-pigmentation, sun damage, fine lines, enlarged pores, and more. Both Halo Pro and the MicroLaserPeel will leave you with radiant, clear skin that you can feel confident in.
We've all been under a lot of stress, but we're here for you and we have the tools and know-how to resolve your skin care issues. Contact RejuvenationMD® – Aesthetic Skin Treatment & Wellness Center by calling our Bellingham office at 360-685-8408 or our Burlington office at 360-982-2620 to learn more.
RejuvenationMD® – Aesthetic Skin Treatment & Wellness Center serves clients in the surrounding areas of Washington State.