Why get Sofwave™ at RejuvenationMD?
Sofwave™ is a non-invasive skin rejuvenation treatment that uses ultrasound technology to stimulate collagen and elastin production, add firmness, and smooth out wrinkles to reveal smoother, younger-looking skin.
Collagen is a natural protein in your body that maintains your skin's volume, tone, and moisture by making up the framework that keeps your cells connected to each other. Elastin is the natural protein in your body that allows your skin to maintain elasticity. These vital proteins break down as you age starting in your mid-20s, which gives your skin a more aged look.
Although there are many treatments for treating wrinkles and skin laxity and stimulating collagen production, none have been quite like Sofwave. Its ability to quickly and effectively treat deeper layers of tissue while bypassing the uppermost layer of skin make for a special, cutting-edge treatment.
How does Sofwave work?
When Sofwave's fractional ultrasound heat stimulates the healing response in your fibroblast cells, it boosts new collagen and elastin production. When your body produces new collagen and elastin, fine lines and wrinkles smooth out and your skin looks firmer, tighter, younger, and healthier.
Sofwave triggers your body's healing response, known as neocollagenesis, stimulating new collagen by heating the tissue in the lower layers of your skin (mid-dermis). The ultrasound beam heats at a depth of 1.5mm under the skin to create controlled damage which jump-starts the healing of existing collagen and the production of new collagen.
How much does Sofwave cost?
At all three of our RejuvenationMD medical spa locations in Bothell, Burlington, and Bellingham, we offer Sofwave for $1,500 and up.
The cost of your Sofwave treatment will depend on how many treatments you need to get results. We recommend most of our patients here at RejuvenationMD get two initial treatment sessions for best results, but many notice improvements after just one session. When you consult with us for Sofwave treatment, we'll develop a treatment plan tailored to you.
All new patients at RejuvenationMD receive a $200 credit toward any treatment, which can be used toward Sofwave.
When will I see the results of my Sofwave treatment?
Because it takes time for new collagen to grow once your fibroblast cells are stimulated to repair your tissues, it can take up to three months to see results. We usually include two sessions in the treatment plans we recommend for our patients, so best results are usually visible at the six month mark following the first treatment session.
How long do Sofwave results last?
We typically recommend a series of two treatments for initial results followed by one to two treatments a year to maintain them.
What is a Sofwave treatment like?
We'll first numb your face with a topical anesthetic.
Since Sofwave can cover a large area at a time, the treatment is relatively quick, averaging at about 30 to 45 minutes for the full face and neck area.
We call Sofwave a "lunch break" procedure, because you don't even need to tack on time to your lunch break to make time for this non-invasive firming and smoothing treatment. You'll be able to jump right back into your daily activities immediately after your treatment.
Does Sofwave treatment hurt?
Most patients feel very little pain during their Sofwave treatment because we numb your skin with a topical anesthetic, and the device has a built-in cooling system called SofCool™ to prevent the heat from damaging the upper layer of skin.
Even without an anesthetic cream, you would probably only feel a minimal warm sensation on your skin. You shouldn't feel any discomfort after your treatment.
What can be treated with Sofwave?
Sofwave is FDA-approved to lift your brows, neck, and jawline. Using parallel beam technology, it's able to do this gently and without damage to surrounding tissues.
FDA-cleared uses for Sofwave include:
Lifting the eyebrows
Firming and lifting lax tissue on the submental (known as the "double chin")
Lifting sagginess in the neck
Smoothing out fine lines and wrinkles
Reducing the appearance of cellulite
The most popular areas we treat with Sofwave here at RejuvenationMD include fine lines and sagging around the eyes and brows and sagging around the jawline and neck. The treatment is safe for treating practically any area.
Does Sofwave really work?
In the initial Sofwave clinical study, 88% of the patients who tried the treatment had a significant improvement in fine lines and wrinkles at the three month mark. 72% of the patients were pleased with their results and rated them as improved to very much improved.
A more recent study of the treatment's lifting effects on the eyebrows, neck, and submental tissue (under the chin) showed that 80% of patients noticed an improvement in 12 weeks.
According to RealSelf, 83% of Sofwave patients consider the treatment to be "worth it." Some advantages patients point out about their experiences with the treatment include being able to fit it into their busy schedules since it has no downtime, seeing an immediate lift, and looking a decade younger.
How do I prepare for a Sofwave treatment?
Since Sofwave is non-invasive with no downtime, not much preparation goes into getting this procedure. You won't need to adjust your routine before and after your treatment.
Is Sofwave safe? What are possible side effects?
Sofwave is FDA-cleared to lift the brows, neck, and jawline. Since Sofwave's cooling mechanism protects the surface of your skin and surrounding tissues while it treats the mid-dermis, you most likely won't have any bruising, ulceration, or hyperpigmentation issues from the treatment.
How is Sofwave different from its alternatives?
Sofwave stands out from other forms of ultrasound treatments like Ultherapy® and Thermage® because it allows us to treat larger areas of the skin more gently and with less risk of damage to surrounding tissues.
Alternatives to Sofwave for treating fine lines and wrinkles without surgery can be too aggressive for some skin types, causing damage to the upper layer of skin. Sofwave stands out because it noticeably reduces the appearance of fine lines and wrinkles and tightens lax skin without leaving long-term damage to surrounding areas thanks to its integrated cooling mechanism. It can also treat larger areas at once than most of its alternatives, making for a faster procedure process.
Sofwave's alternatives have higher risk of discoloration and discomfort because they are more aggressive and don't include a built-in cooling mechanism for the upper layers of skin.
What's the difference between Sofwave and Ultherapy®?
Both Sofwave and Ultherapy stimulate collagen production using ultrasound energy to give you firmer skin and smooth out fine lines and wrinkles. Sofwave is newer to the market, though, and the two treatments have a few key differences:
Sofwave treats skin at lower depths than Ultherapy, targeting more superficial layers of your skin and significantly reducing wrinkles without damaging deeper layers. Sofwave tends to be less painful than Ultherapy® for this reason.
Sofwave doesn't cause you any inflammation or swelling post-treatment, while Ultherapy does.
Sofwave also has a built-in cooling mechanism to protect the surface of your skin while it treats the area.
Sofwave can target larger areas at once than with Ultherapy®, so it's a quicker procedure to do.
Am I a candidate for Sofwave?
Sofwave is safe and effective for all skin types and tones. The best candidates for the non-surgical lifting and firming treatment are in their 30s or older with mild to moderate signs of skin aging such as:
Fine lines and wrinkles
Sagging neck skin
Jowling around the jawline
Is there any downtime needed after a Sofwave treatment?
One of the biggest advantages to Sofwave is that it requires no downtime at all. You can return to your normal activities as soon as you step out of our office.
For post-care instructions go to "Patient Info" and click on Sofwave.
To book your Sofwave appointment
Schedule an in-person or virtual consultation with one of our experienced providers to discuss your goals.
With three medical spa locations in Burlington, Bellingham, and Bothell, Washington, we're here to make Western Washington even more beautiful!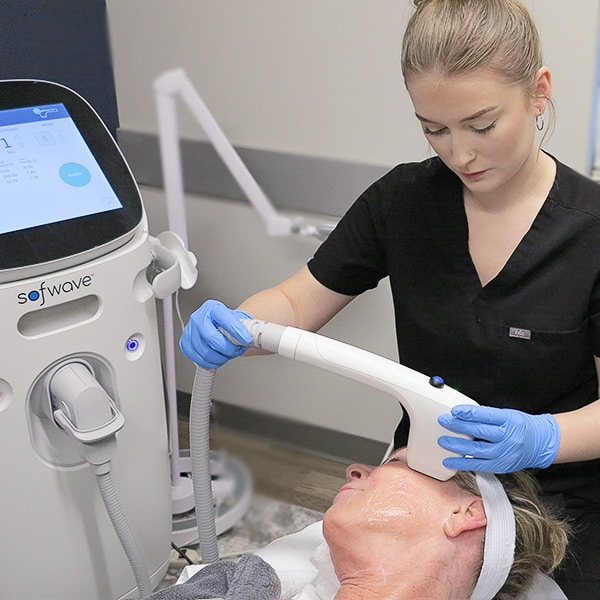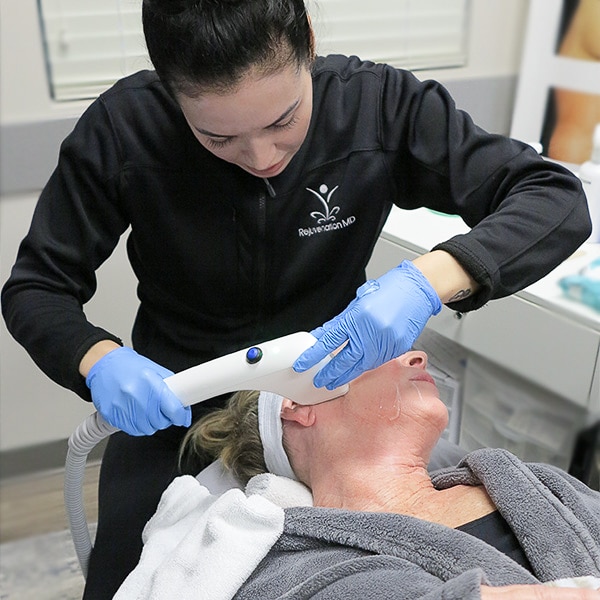 "Within a week of my Sofwave treatment, my chin, cheekbones, and jawline looked sharper. It took a little longer to see a difference in the skin of my neck, but it's definitely smoother and tighter now. I would definitely do this treatment again!"