Why choose RejuvenationMD for your BOTOX® treatment?
BOTOX® is well known and appreciated by millions for its ability to temporarily erase fine lines and wrinkles. As one of the top 1% of all BOTOX providers nationwide, you can be confident that the experienced injectors at RejuvenationMD will deliver the natural, beautiful results you're looking for.
How much does BOTOX® cost?
At all three of our RejuvenationMD medical spa locations in Bothell, Burlington, and Bellingham, we offer BOTOX® and Xeomin for $13-$15/unit and the average treatment ranges from $500-$600.
The cost of your BOTOX® treatment will depend on how many units of the product are used. The average for most people is around 40 units, sometimes less and sometimes more depending on how many areas are treated.
All new patients at RejuvenationMD receive a $200 credit toward any treatment, which can be used toward BOTOX®, and reward programs from our partners make it easy to save on your favorite treatments:
Join Alle to earn points on over 50 Allergan Aesthetics products and treatments including BOTOX, Juvederm, SkinMedica, CoolSculpting, and more
Join ASPIRE for $20 instant savings on Galderma products and earn rewards for Restylane & Sculptra
Join Xeomin Xperience to earn rewards for savings on future treatments.
Am I a candidate for BOTOX®?
While some cosmetic procedures have very specific requirements for good candidates, BOTOX® is great for practically everyone. Anyone who has wrinkles or frown lines they would like to improve is a good fit for BOTOX®.
Though BOTOX® can deliver great results to a wide range of people with a wide range of skin types, we do not recommend it for women who are pregnant or breastfeeding, or for people with an existing neurological disease.
When is the best age to start BOTOX®?
It's never too late to start! Most people wait until they see visible wrinkles before they start getting BOTOX® treatments, but it is actually best to start getting it to prevent new wrinkles from forming. If you wait too long to start BOTOX® treatments, you may need some additional assistance from dermal fillers or laser skin resurfacing to smooth out fine lines depending on their depth.
BOTOX® is FDA-approved for anyone 18 years of age or older, but we typically don't find it necessary to use it for facial rejuvenation purposes until your late 20s to early 30s.
Does BOTOX® treatment hurt?
During the injections you may feel a slight pinching sensation, but most of our patients report pain to be minimal to none at all. We can apply a topical numbing cream to ease discomfort if needles make you uneasy.
How does BOTOX® work?
Botulinum toxin works beneath the surface of the skin to block certain nerve signals that make muscles contract. By reducing muscle activity, BOTOX® can minimize the appearance of dynamic wrinkles caused by the frequent use of certain expressions.
What can be treated with BOTOX®?
BOTOX® was originally researched and developed to treat medical conditions such as strabismus, in which the eyes are unevenly aligned. It was later used to treat muscle spasms before its usefulness for smoothing out fine lines for aesthetic purposes was first discovered.
Today, BOTOX is FDA-approved to treat crow's feet, frown lines, and forehead lines.
It can also be used for:
Platysmal bands on the neck
Bunny lines across the top of the nose
Brow lift
Lipstick lines
Lip flip
"Orange peel" chin
When will I see the results of my BOTOX® treatment?
Most people see the effects of BOTOX® treatments within 2-3 days, but it can sometimes take up to two weeks for final results to appear. Before it starts working its muscle relaxing effects, it has to bind itself to nerve cell receptors, and this is a process that can take some time.
How long do BOTOX® results last?
We recommend patients visit our office for regular maintenance treatments of neuromodulators every three to four months to keep their wrinkles smooth as the effects are temporary.
Though maintenance treatments are required to maintain best results, it's not uncommon to notice that you need it less often as your muscles become accustomed to being in a more relaxed state.
What are the possible side effects of BOTOX?
BOTOX® is a safe procedure with plenty of research to back up its reliability and effectiveness. As with any procedure, though, it can lead to some mild side effects, such as:
Mild bruising and/or swelling at the injection site
Discomfort at the injection site
Dry mouth
Dry eyes and/or blurred vision
Headache
Most BOTOX® patients do not report experiencing any of these minimal, temporary side effects. BOTOX® can have risks if done by someone who is not a trained professional. Be sure to take your time researching and talking to injectors to ensure you are in good hands.
Rare side effects of botulinum toxin A include:
Trouble swallowing, breathing, or talking
Allergic reactions such as hives, swelling in your face or throat, or feelings of faintness
The toxin being spread to other areas of the body, causing droopy eyelids, crooked eyebrows, or a crooked smile
Is there any downtime needed after a BOTOX treatment?
No, you don't need to plan for any down time. You can jump right back into work and other regular activities. There are, however, a few things you should avoid immediately following your BOTOX® injections:
No strenuous exercise for the first 24 hours
Do not rub the injected areas as they heal
Will I look "frozen" after BOTOX® treatment?
No, your face will still move and there won't be any change to your everyday expressions like smiling, laughing, or frowning. The only difference is that the wrinkles associated with these expressions are far less noticeable. The "frozen" look happens when too much BOTOX® is injected, which doesn't happen when you choose an experienced injector like the team at RejuvenationMD.
What is the BOTOX® lip flip? 
The lip flip is a microdose of BOTOX® of ~2 units on either side to relax the muscles in the upper lip. It won't create the same kind of volume as injectable lip fillers or the dramatic, long-lasting results of a surgical lip lift, but a lip flip is a popular option for people seeking a subtle improvement.
What can't be treated with BOTOX®?
Although it's great for smoothing out surface-level wrinkles and preventing new ones, BOTOX® isn't a solution for deep wrinkles such as the marionette lines ("smile lines"). That's what fillers like Juvederm, Restylane, and Sculptra are meant for.
Unlike dermal fillers, BOTOX® isn't a volume-restoring treatment. It wouldn't provide any benefits injecting it into the under eyes to fill in lost volume or improve dark circles. BOTOX® under the eyes can also lead to risks such as your lower eyelids sagging or issues with blinking.
How do I prepare for a BOTOX® treatment?
To reduce your risk of experiencing any of the rare side effects associated with BOTOX®, you can prepare for your injection treatment by:
Avoiding alcohol consumption and smoking for one week prior to your treatment
Avoid blood thinning supplements such as fish oil and vitamin E
Stop taking blood thinners such as ibuprofen or aspirin for one week prior to your treatment
Apply arnica cream to the areas you plan to have injected
Inform your doctor of any muscle relaxants and allergy or sleep medications you are currently taking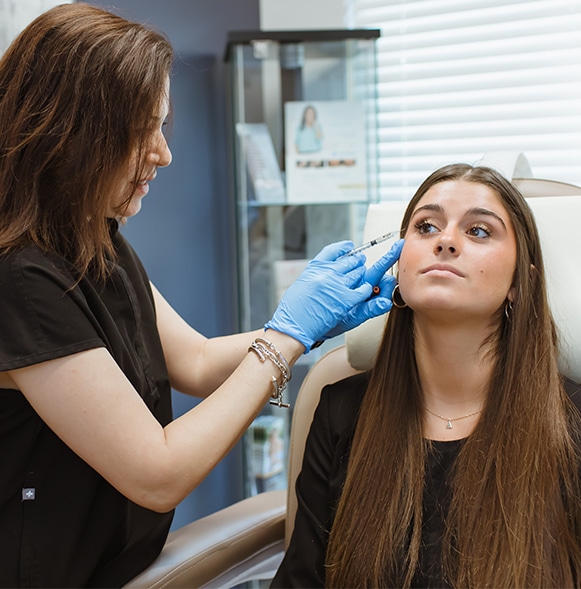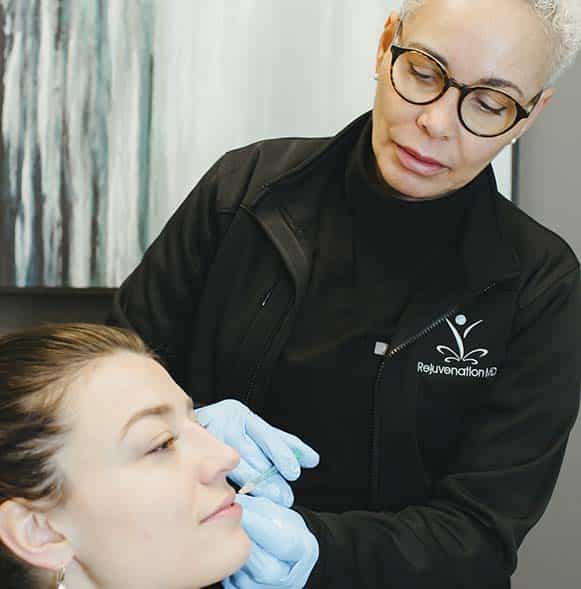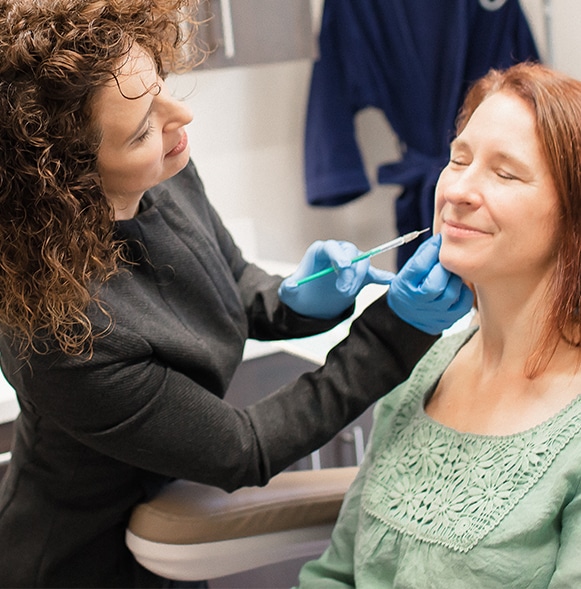 "I've only had Botox twice and you (Dr. Tsitsis) were the BEST. It lifted my eyebrows and just made me feel happy."