Stimulate natural collagen development to improve your skin's tone & texture.
Rejuvapen™ NXT is a state-of-the-art non-invasive, microneedling treatment that can be used all over the body—from scalp to ankles—to tighten and improve the appearance of myriad concerns. Microneedling is indicated for surgical and acne scars, stretch marks, burns, fine lines, wrinkles and sun-damaged areas. Although a series of treatments is often needed, results can last for years– resulting in improved tone and texture, firmer, tighter and brighter skin. Adding exosomes to your treatment may enhance your results!
What does it treat?
Microneedling treats skin laxity, fine lines, acne scarring, large pores, stretch marks and more.
How long do results last?
Depending on the treatment, results can be permanent.
Recovery time & side effects?
There's no downtime though you may have a red, windburn-like appearance for one to three days. Exosomes support the healing process. Ask your provider about adding exosomes to your treament.
How does Rejuvapen work?
The Rejuvapen system utilizes microneedles to create invisible vertical perforations into the epidermis and top layer of the dermis to generate new collagen and elastin.
Does it hurt?
We apply topical numbing cream to keep you comfortable. Patients report that it feels like an ultrasonic toothbrush because of its mild vibration.
Who is a good candidate?
People with wrinkles, lines, skin laxity, scarring and more will benefit from a series of treatments. Your provider will assess your skin tone and texture to make sure you're a candidate.
What is the procedure time? 
The appointment time depends on the size of the area we are treating, but it can range from 5 to 60 minutes.
When can I expect results?
A series of treatments is required. Results can be apparent as early as two to four weeks, but they're most notable after your treatments are complete.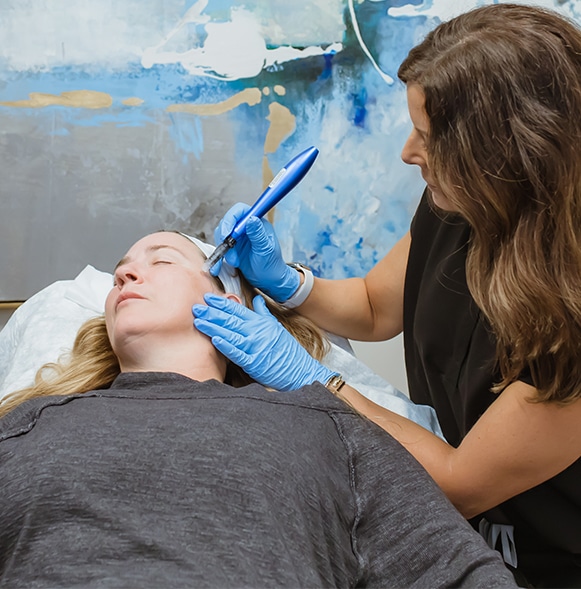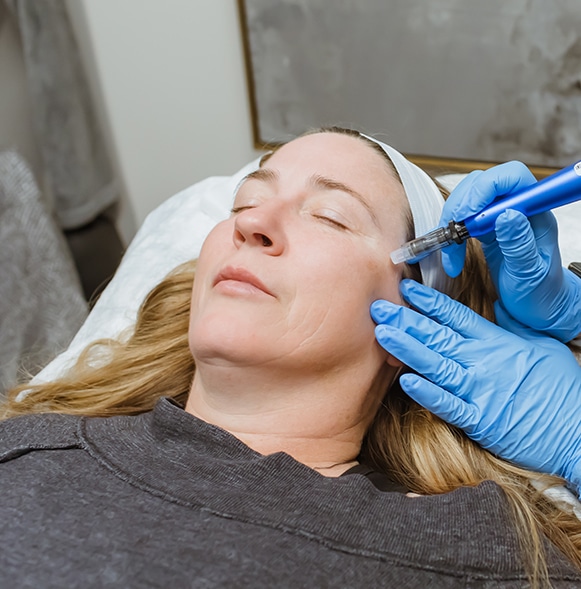 Real life patient stories
"The wonderful staff at RejuvenationMD are miracle workers. They helped me erase years of acne scarring with 3 microneedling treatments."
Ask questions, get pricing or schedule your complimentary consultation today.
Ask questions, get pricing or schedule your complimentary consultation today.
Sign Up for Our Monthly Specials and Events
"*" indicates required fields