Why get a Vampire Facelift?
The Vampire Facelift is a non-invasive alternative to the surgical face lift.
By combining platelet-rich plasma (PRP) injections with hyaluronic acid (HA) dermal fillers and/or PDO threads, the Vampire Facelift provides instant gratification and promotes long-term improvements over the two to three months following the procedure.
What can be treated with Vampire Facelift?
If you want plumper skin and give your face contour and glow, the Vampire Facelift is a great option for non-surgical facial rejuvenation. It is an excellent solution for plumper skin, contour, and restored volume in the under-eye area.
Other benefits of the Vampire Facelift include:
Tighter, firmer skin
Improved moisture retention
Increased collagen production
How does the Vampire Facelift work?
While the stem cells in PRP take time to naturally generate new collagen, the filler and PDO threads add immediate volume and lift.
The fillers immediately smooth out fine lines and wrinkles, soften creases, enhance your facial contour, and restore volume where it's depleted. The PRP, on the other hand, uses growth factors pulled from your own blood to gradually improve skin tone and texture over time.
We may also recommend adding PDO threads to give your face an immediate lift to help you get the most out of your non-surgical face lift.
When will I see the results of my Vampire Facelift treatment?
You'll see a difference immediately after your treatment because of the volume added from dermal fillers and/or the lift provided by the PDO threads. The final results of your treatment, however, will gradually be revealed as the PRP goes to work and any swelling from the procedure goes down.
It usually takes PRP about eight to 12 weeks to generate new collagen, blood vessels, and tissues. The results from the procedure will continue to improve over time.
How much does Vampire Facelift cost?
At all three of our RejuvenationMD medical spa locations in Bothell, Burlington, and Bellingham, we offer Vampire Facelift for $1,995 and up
The cost of a Vampire Facelift will depend on whether you combine it with dermal fillers and/or a PDO thread lift. When you consult with us for a Vampire Facelift, we'll develop a treatment plan tailored for you.
All new patients at RejuvenationMD receive a $200 credit toward any treatment, which can be used toward Vampire Facelift.
How long do Vampire Facelift results last?
At the three to four-month mark, patients will realize the full results of their treatment. Results can last one to two years.
What is a Vampire Facelift treatment like?
When you visit RejuvenationMD for your Vampire Facelift, we'll first apply a numbing cream and draw blood from your arm. One of our specialists will use a centrifuge to separate your platelets from your red blood cells. We consider these platelets "liquid gold."
The Vampire Facelift is a quick treatment that typically takes about 90 minutes to complete. Depending on your goals and the number of filler syringes or PDO Threads you're getting, it may take a little longer.
Your aesthetic provider will inject the filler for immediate volume and then place the PRP beneath the filler. If you've chosen to combine PDO threads, after your aesthetic provider injects the PRP the threads will be placed to give you an immediate lift.
Does a Vampire Facelift hurt?
You shouldn't feel much pain during your Vampire Facelift. We'll use numbing cream 20-30 minutes ahead of the treatment. We may inject lidocaine if necessary, and dermal fillers also include lidocaine to enhance the numbing. We also offer Pro-Nox™ if you're worried about pain.
Can the Vampire Facelift get rid of wrinkles?
Because PRP naturally stimulates collagen and elastin, you'll notice your skin gradually become smoother, more radiant, and younger-looking. It may even prevent future wrinkles from forming. If you add filler to your Vampire Facelift, it will immediately fill in any obvious wrinkles.
Does a Vampire Facelift actually work?
The Vampire Facelift with dermal fillers gives you better results than you would get if you chose to have either PRP or hyaluronic filler injected during separate procedures, according to doctors on RealSelf. Set realistic expectations ahead of time, though, and understand that no non-invasive treatment has the power to give you results quite as dramatic and long-lasting as a surgical face lift would.
How do I prepare for a Vampire Facelift treatment?
At your Vampire Facelift consultation, we'll give you the full instructions on how to prepare for your facial rejuvenation treatment, but general instructions include:
Stop taking blood thinning medication aspirin or ibuprofen for the week leading up to your treatment
Stop consuming herbal supplements for at least a week prior to your injections
Limit sun exposure as much as possible and wear plenty of sunscreen for one to two weeks before your appointment
Avoid consuming alcohol for at least a week before your injections
Stay extra hydrated throughout the days leading up to your treatment
To minimize swelling and bruising, take arnica tablets throughout the days leading up to your appointment
We ask that you arrive at our office for your Vampire Facelift appointment with clean, makeup-free skin.
What are alternatives to Vampire Facelift?
At RejuvenationMD®, we have many ways to rejuvenate the face. We offer some alternatives to the Vampire Facelift that can also play a role in delaying the need for a surgical face lift.
Botox and Dysport – These are popular muscle relaxers we offer here at RejuvenationMD that can temporarily smooth out fine lines and wrinkles, especially common aging telltales like crow's feet and the "eleven" lines between the eyebrows.
Liquid facelift – Using a combination of hyaluronic acid fillers and neurotoxins like Botox or Dysport, the liquid face lift temporarily restores facial volume, lifts your cheeks, and smooths out fine lines and wrinkles.
Am I a candidate for Vampire Facelift?
PRP is safe for all skin tones and types, and the PRP face lift is a great procedure for anyone who wants to turn back the clocks on their face without surgery—even those in their 50s and beyond. The younger you are, however, the better your body will respond to the PRP.
When you meet with one of our PRP specialists during a complimentary consultation, they will listen closely to your goals and medical history, take a look at where your face is at in the aging process, and determine whether this treatment is right for you. Big determining factors can include your age, health, and muscle.
Is the Vampire Facelift safe? What are the possible side effects?
Since hyaluronic acid is naturally found in your body and PRP is derived from your own blood, there's little chance of getting an allergic reaction from your Vampire Facelift.
The Vampire Facelift is a safe procedure, but if you don't visit an experienced PRP specialist for your treatment, there's a risk of blood-borne disease transmission including HIV. Our experts here at RejuvenationMD always ensure they are following protocol according to the FDA-approved, sterile process for obtaining, concentrating, and injecting the PRP.
If filler is unintentionally injected into a blood vessel during the procedure, it can block blood flow. A mistake like this only happens in the hands of an inexperienced injector.
We recommend avoiding PRP treatments like the Vampire Facelift if you have:
Hepatitis C, HIV, or AIDS
Blood cancer of any kind
Cardiovascular disease that requires you to always take blood thinning medications
Skin cancer in the areas of the face you'll be having treated
Is there any downtime needed after a Vampire Facelift treatment?
There's no downtime. After treatment you may experience swelling, bruising and/or redness in the treatment areas, but this should resolve in a few days.
Most of our patients jump right back into their usual routines as early as the next day.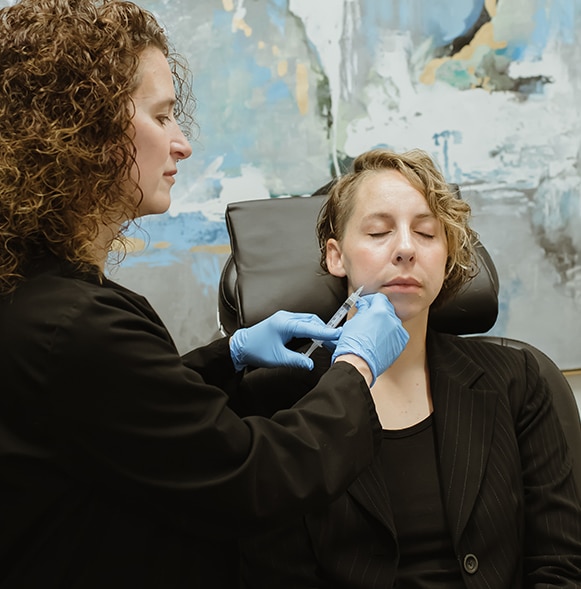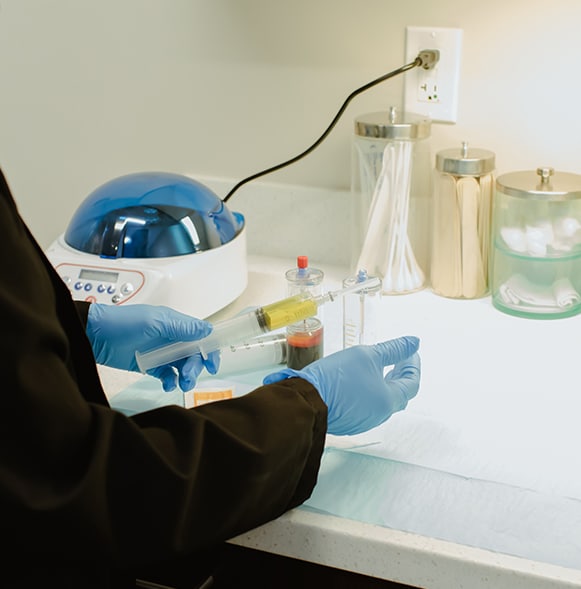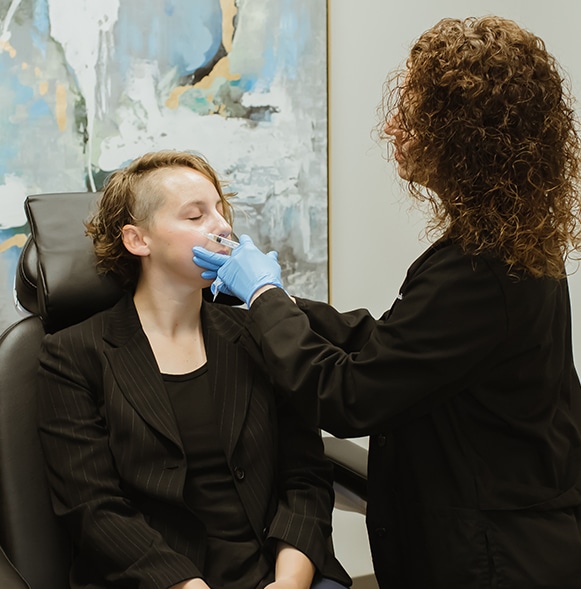 "I am an older lady way into my golden years.  The aging process is not what anyone compares to gold, so I'm not sure how that phrase got "coined," but I did find gold when I met Dr. Tianna Tsitsis. She beautified my face and directed me in treatments for tightening my neck. The results are stunning!  She is skilled, kind and highly professional at all times. I am so happy with the results. I would recommend her to anyone who has entered the world of Seniors. Dr. Tsitsis understands the feelings that come with these years and gives you a new confidence to brighten and tighten you; to make you glow, and really look "golden"."