Lift, tighten and contour, eliminate fat, stop acne outbreaks, and treat hyperhidrosis with Agnes RF Microneedling.
Carefully developed over two decades to eliminate the sebaceous oil glands, which cause acne and blackheads, doctors discovered that Agnes RF microneedling uniquely resolved a number of other concerns. Safe for all skin types, Agnes RF Microneedling treats hyperhidrosis, permanently gets rid of unwanted fat, contours the jawline, lifts the nose and brows, eliminates eye bags and more.
How does it work?
Agnes RF is a radio frequency microneedling treatment that precisely delivers RF energy into the skin to improve eye bags, unwanted fat, wrinkles, or loose skin in the face and neck. This treatment stimulates collagen and elastin production, giving you noticeable long lasting results.
The precision of the energy the Agnes RF delivers allows us to take customizable treatment plans to the next level to truly treat the areas that need it and those areas only.
What can be treated with Agnes RF microneedling?
Safe for all skin types, Agnes RF microneedling treats a wide variety of concerns that come with aging. The treatment effectively diminishes unwanted fat pockets under the eyes, around the face, neck, or any area of the body, and tightens and contours by stimulating healthy collagen to lift and contour the face, jawline and neck. Agnes is even used to raise eyebrows and smooth the delicate tissue around your eyes and eyelids.
By destroying overactive sweat glands, Agnes RF microneedling can even treat underarms and areas of the body for patients with hyperhidrosis (excessive sweating).
On top of all of the impressive results you'll see soon after your Agnes RF microneedling treatment, it's stimulating your body's natural production of collagen and elastin to provide long-lasting results.
Agnes RF microneedling is used to treat:
Skin laxity and sagging to tighten the face and neck
Skin texture
Large pores
Scars
Fine lines and wrinkles
Collagen production
Acne
Stretch marks
Hyperpigmentation
Rosacea
Sebaceous hyperplasia
Syringomas (bumps from overgrowth of your sweat glands)
Eye bags
Hyperhidrosis
How does Agnes RF microneedling work?
Agnes RF uses radio frequency energy-enabled microneedles to boost collagen production, improve texture, and give you natural-looking results. The energy from the needles creates tiny, localized injuries that stimulate your body's natural healing response, reducing the volume of fat pads and treating scars, fine lines, sagging skin, acne, texture, stretch marks, and more. A series of Agnes RF treatments is most often recommended to achieve the best results possible.
What is an Agnes RF microneedling treatment like?
The treatment may take anywhere from 15 to 60 minutes depending on the areas you're having treated. The submental area (under your chin), for example, takes about 20 minutes.
People say this treatment feels like scratching, or light sandpaper. You should be able to return to your usual daily routine (aside from strenuous activities) the moment you step out of our office.
How much does Agnes RF microneedling cost?
At all three of our RejuvenationMD medical spa locations in Bothell, Burlington, and Bellingham, we offer Agnes RF microneedling starting at $1,500, and we'll typically recommend one to three sessions to see results depending on your skin type and goals.
The cost of Agnes RF microneedling treatment will depend on your unique treatment plan, the area and concern we're addressing, and how many treatment sessions you need. Some patients see great results after just one, while others need up to three sessions to achieve desirable results.
When you consult with us for Agnes RF microneedling, we'll develop a treatment plan tailored to you.
All new patients at RejuvenationMD receive a $200 credit toward any treatment, which can be used toward Agnes RF microneedling.
When will I see the results of my Agnes RF microneedling treatment?
You'll see improvement after one treatment, but it's typical your treatment plan will require a series of up to three sessions to achieve your goal results.
The results of each treatment will continue to improve over the following months as your body heals and produces its own healthy collagen.
How long do Agnes RF microneedling results last?
Once your body has eliminated the affected fat cells and glands and produced new healthy collagen, you'll enjoy long term results. Agnes RF is producing all natural improvement in the tissue, but nothing completely stops the aging process.
Can Agnes RF treat bags under the eyes?
The fat pad that supports the eyes can sink as we age, and the surrounding muscles and tissues weaken over time. This along with fluids collecting in the area can make them appear swollen and form what we often call "eye bags."
One of the most popular uses for RF microneedling with Agnes is improving these under-eye bags. This is also arguably its most impressive ability as this area is infamously sensitive to treatments because of the delicate tissue around it.
Can Agnes RF tighten the skin in the jowls?
Loose skin and fat tend to move to the bottom of your face as you age, often causing jowling and the "double chin." Agnes RF can deliver tighter, firmer skin in the neck and jowl area by removing stubborn fat and sculpting to highlight the natural contour of your jawline.
The microneedles allow us to go beneath the surface of your skin with radio frequency energy to tighten the underlying tissue and skin and reduce the size of fat pockets without surgery.
What can't be treated with Agnes RF microneedling?
As with any non-surgical treatment, Agnes RF has its limitations.
Microneedling can't give you the dramatic results of a facelift because it does not involve the removal and repositioning of excess skin and tissue.
Does Agnes RF microneedling treatment hurt?
Your comfort is important to us. You should feel little discomfort if any from Agnes RF microneedling because we prepare you for treatment with both a topical and an injectable numbing agent.
What can be combined with Agnes RF microneedling?
EXO|E or platelet-rich plasma (PRP) combined with Agnes RF can further enhance your results, improve your overall healing process and take the anti-aging effects of the treatment to the next level.
Does Agnes RF actually work?
Agnes RF was first developed by Korean dermatologist Dr. Gun Young Ahn to treat acne by eliminating the sebaceous oil glands. Soon after this original application exceeded doctors' expectations, they realized it had a unique ability to non-surgically treat a wide range of concerns.
Several clinical studies prove its abilities to treat lower eyelid fat bulging, acne, wrinkles around the eyes, scars, and more.
How do I prepare for an Agnes RF microneedling treatment?
To minimize the chance of any complications during your Agnes RF appointment, we ask that you:
Avoid getting any invasive laser treatments or chemical peels for the 4 weeks leading up to your radio frequency microneedling appointment
Stop taking blood thinning medications like aspirin or ibuprofen for 10 days before your treatment
Steer clear of clinical skin care products that contain strong ingredients like retinol for 4 weeks prior to your treatment
Avoid natural and artificial tanning for two weeks leading up to your appointment
What are the possible side effects of Agnes RF microneedling?
It's normal to have some redness, bruising, and/or swelling for up to 10 days after your treatment, but these should gradually resolve on their own.
Any visible side effects should only last a week at the most. Since the Agnes RF targets deep into the tissue, you may experience some numbness for up to four weeks.
Am I a candidate for Agnes RF microneedling?
If your goal is to sculpt, firm, tighten, and smooth, Agnes RF is your answer.
It's safe for all skin types, so anyone with stubborn fat tissue and lax skin causing eye bags, jowling, and/or a "double chin" can benefit from this radio frequency microneedling treatment.
We don't recommended Agnes RF microneedling if you:
Are pregnant
Have uncontrolled diabetes
Have underlying infectious disease
Have a pacemaker
Have specific types of metal implants (check with us during your consultation to see if your implants can cause any complications during your RF microneedling treatment)
Agnes RF pre and post-care instructions.
To book your Agnes RF microneedling appointment
Schedule an in-person or virtual consultation with one of our experienced providers to discuss your goals.
With three medical spa locations in Burlington, Bellingham, and Bothell, Washington, we're here to make Western Washington even more beautiful!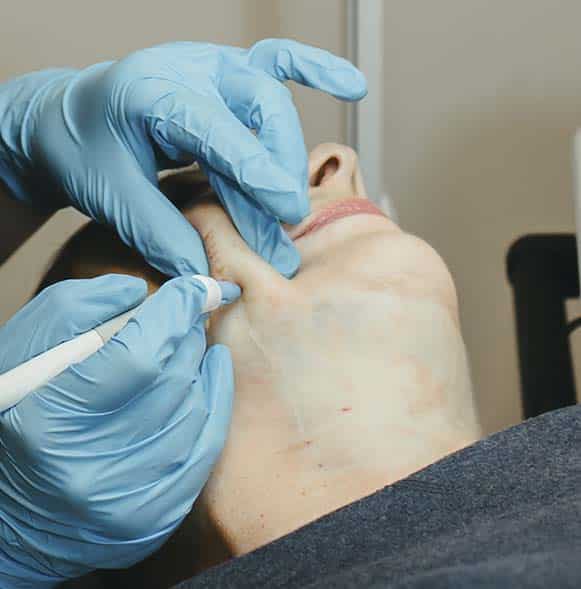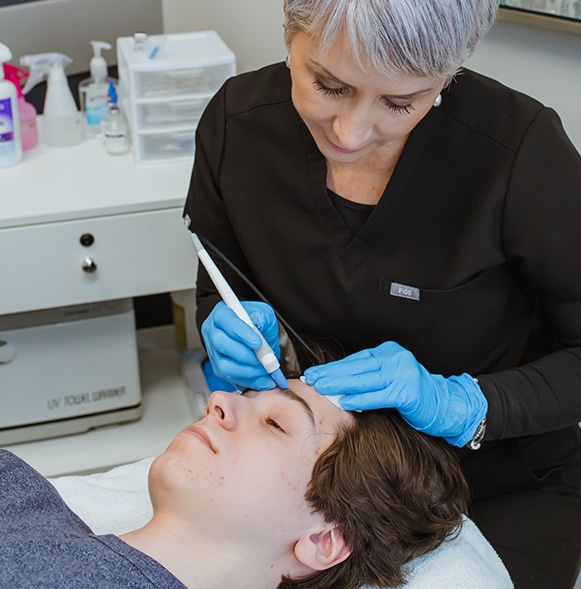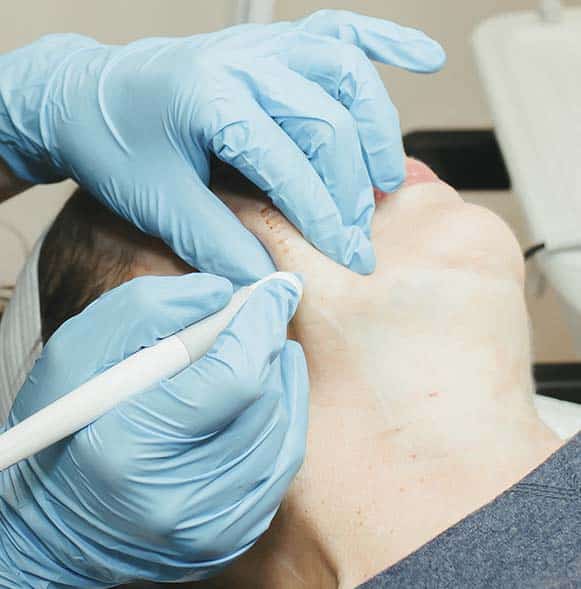 "I thought nothing could get rid of my eye bags other than surgery, but Dr. Vakil recommended trying Agnes RF. I look so much younger and refreshed! I'm so grateful I didn't have to have surgery."