Target aging at the molecular level to treat just about any skin concern.
Sciton's BBL® HERO™ delivers light therapy to target signs of aging like brown spots, sun damage, redness and multitude of other skin conditions. How is the BBL HERO, IPL treatment, different from other IPL treatments? It's clinically proven to restore the gene expression in older skin to resemble younger skin. It safely and comfortably delivers exceptional results, leaving skin brighter and healthier.
How does the BBL® HERO™ work?
Using intense pulsed light (IPL) therapy, BroadBand Light (BBL) emits broad-spectrum thermal energy. Your skin absorbs this heat energy from the BBL HERO treatment, destroying pigmented skin cells and closing off superficial blood vessels. This energy is absorbed by melanin, brown pigment in your skin, and the hemoglobin, the proteins in your red blood cells that cause redness.
Anything left of the brown pigment will peel off over the next two to three weeks after your treatment, and your body continues absorbing the remainder of the closed off blood vessels over the next several weeks. Thanks to the energy and heat of the light, BBL HERO triggers your skin's healing process and stimulates collagen production.
How is the BBL HERO different from the original BroadBand Light therapy?
Made by Sciton, the new BBL HERO gets the job done in fewer sessions than the original BBL and delivers three times the energy of IPL treatments making it four times faster. It has two times the cooling technology to improve the precision of each treatment. The BBL HERO is perfect for patients who have limited time, but want fast results.
How much does BBL® HERO™ cost?
At all three of our RejuvenationMD medical spa locations in Bothell, Burlington, and Bellingham, we offer
BBL HERO starting at $1,600 and up, and we typically recommend an initial series of three to six treatments spaced four to six weeks apart followed by a maintenance routine.
The cost of your BBL HERO will depend on the number of treatments you need. When you consult with us for your BBL HERO treatment, we'll create a treatment plan tailored to you.
All new patients at RejuvenationMD receive a $200 credit toward any treatment, which can be used toward BBL HERO.
What can BBL HERO be paired with?
The efficiency and effectiveness of HERO opens up the doors for treatment combinations, allowing our experts to treat a variety of concerns in one appointment. We often recommend pairing the BBL HERO with Moxi™, a complementary laser resurfacing treatment that's designed to eliminate sun damage, brighten, and tighten the skin to prevent aging.
Is BBL a laser treatment?
BroadBand Light is not a laser treatment. Rather than using a laser to emit light, it uses a broad spectrum of light, meaning it has several settings that can be customized to treat the conditions we want to target.
How long do BBL HERO results last?
Depending on your skin type and condition, your BBL HERO results can last up to a year. We recommend annual treatments to maintain these results and continue stimulating collagen production.
What is a BBL® HERO™ treatment like?
When you visit RejuvenationMD for a BBL® HERO™ treatment, one of our specialists will have a consultation with you to take a look at your skin, listen to your goals, and determine if you're a good candidate for it. We'll apply a topical anesthetic if you request it and give you goggles to protect your eyes from the device's bright light.
During treatment, your provider will use the BBL handheld device to emit quick blasts of high-intensity light onto your skin. This treatment typically takes under 60 minutes.
We'll apply moisturizer and sunscreen to protect your skin before you head out the door and continue your day as usual. We'll be sure to give you a full run-down of instructions so your skin heals safely and properly.
Does BBL HERO treatment hurt?
You may feel minor discomfort, such as a warm, snapping sensation with this treatment, but we offer integrated cooling technology to help. You can also request topical numbing and/or Pro-Nox™ to maximize the comfort of your experience.
Can BBL treat melasma?
IPL treatments such as BBL are not curative for melasma, skin hyperpigmentation that can develop from a combination of genetics, hormonal influence, sun exposure, and birth control pills. We do, however, offer other treatments that can target melasma:
How do I prepare for a BBL HERO treatment?
Let your doctor know if you have a history of cold sores before your BBL HERO appointment. You'll be prescribed medication to prevent any reactions to the treatment.
In preparation for your BBL HERO appointment at RejuvenationMD, it's best to avoid:
Skin care products consisting of retinol or glycolic acid for one week prior
Sun exposure for four weeks prior, and several weeks after – Wear plenty of sunscreen and wear protective clothing anytime you leave the house.
Chemical peels for three to four weeks prior
Waxing or three to four weeks prior
What can't be treated with BBL HERO?
BBL HERO is not ideal for patients with darker skin types. The melanin in your skin is absorbed by the BBL, so we don't recommend this treatment for people with olive or brown skin because it can cause burning, hypopigmentation, hyperpigmentation, and scarring. If you have a lot of melanin, we recommend chemical peels, microneedling, Moxi™, and other treatments that are safer for a wide variety of skin types.
When will I see the results of my BBL HERO treatment?
You'll start to notice improvement in your skin's tone within two weeks after your treatment. Most of our patients start noticing their tone is more even within a week after their appointment with us. Since BBL HERO reduces fine lines and pore size, your skin will also look and feel smoother.
Is there any downtime needed after a BBL HERO treatment?
Your skin may look pink and feel warm for a few hours after your BBL HERO appointment. You'll notice pigment spots gradually turning darker over the three days after your BBL HERO treatment. We compare the appearance of these to coffee grounds. Avoid picking at these because it can cause scarring. They will flake off on their own within a week or two.
Most of our patients are able to jump right back into their daily activities immediately after their treatments, but there are a few precautions we recommend taking for best results:
It's safe to use a gentle moisturizer, but avoid using products that contain retinol, glycolic acid, or salicylic acid for one week to give your skin time to heal.
If you feel any discomfort as your skin heals itself, lightly press cool compresses for 10-20 minutes at a time or take ibuprofen.
Your skin will be extra sensitive to sunlight for two weeks after your treatment, so take sun protection seriously. Use a sunscreen of at least SPF 30 and avoid being out in the sun for long periods of time for at least four weeks after your treatment.
What are the possible side effects of BBL HERO?
Some people have swelling, especially around the eyes immediately after their treatment, but this should go away within three to five days. If you're doing BBL to treat vascular issues, you may have some bruising, but it'll fade on its own.
Am I a candidate for BBL HERO?
In general, if you're wanting to even out your skin's tone and texture, smooth out fine lines, and give your skin a new, healthy glow, BBL HERO could be a good choice for you. One of our providers will take a look at your skin and ask about your medical history to determine if you're a candidate for BBL HERO. Forever Young BBL™ is safe for many skin types, but it's not recommended for darker skin types or those struggling with certain skin conditions like melasma.
If you're concerned about any of the following skin conditions, you may be a great candidate for BBL HERO:
Age spots or sun spots
Fine lines
Redness
Broken capillaries
Acne or acne scarring
Birthmarks
Sagging skin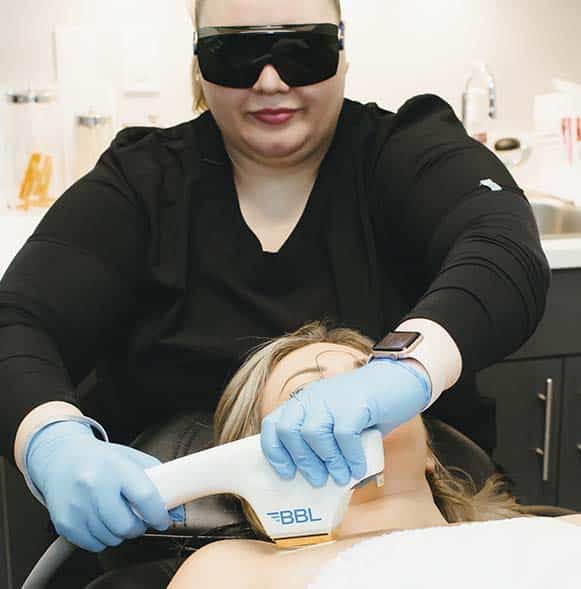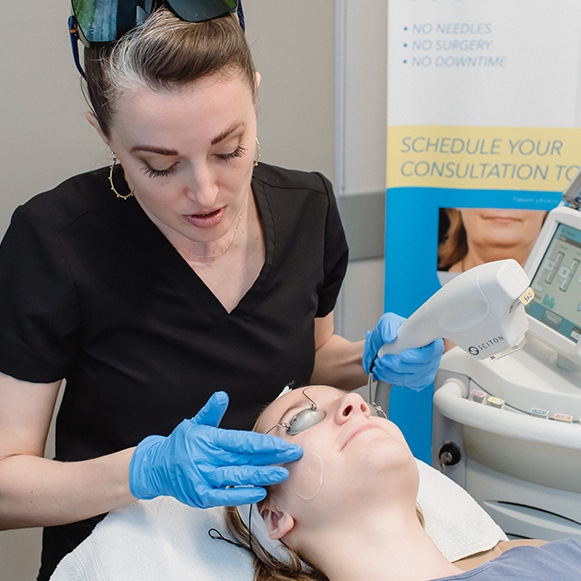 "I've had three BBL treatments and my rosacea redness is hardly recognizable. I no longer need to apply coverup and foundation. My complexion is clear and glowing. The first treatment, I had mild swelling, redness and coffee ground brown spots, all resolved in a day or two. Second and third treatments mild blotching that evening only. No after procedure discomfort at all. Very pleased with the results and will continue occasional maintenance treatments."