Why should you visit RejuvenationMD for Scarlet SRF?
Scarlet SRF is a radiofrequency (RF) microneedling treatment which smooths, tightens, and lifts the face and neck. Along with its companion treatment Agnes RF, the Scarlet SRF combines microneedling with short-pulsed radiofrequency to target signs of aging by delivering bi-polar energy beneath the superficial layer of the skin in order to build collagen.
Scarlet SRF treatment rejuvenates and lessens signs of aging by effectively tightening sagging skin, reducing wrinkles, improving texture and overall appearance. It also helps with scarring, stretch marks, and reducing pore size.
How much does Scarlet SRF microneedling cost?
At all three of our RejuvenationMD medical spa locations in Bothell, Burlington, and Bellingham, we offer Scarlet SRF microneedling for $2,225 for a series and up.
The cost of your Scarlet SRF microneedling will depend on how many treatment sessions you need. Some patients see great results after just one session, while others need up to three sessions. When you consult with us for your Scarlet SRF treatment, we'll develop a treatment plan tailored for you.
All new patients at RejuvenationMD receive a $200 credit toward any treatment, which can be used toward Scarlet SRF microneedling.
What can be treated with Scarlet SRF microneedling?
When we use Scarlet SRF for radio frequency microneedling, we're usually using it to tighten and lift skin on not only the face and neck, but also different areas of the body like the arms, knees, and stomach.
In general, Scarlet SRF is used to treat:
Skin texture
Pores
Scars
Stretch marks
Loose, sagging skin
Sun damage
Am I a candidate for Scarlet SRF microneedling?
Since it treats each layer of skin precisely and evenly, Scarlet SRF microneedling doesn't risk epidermal pigmentation changes and is safe for all skin types.
How does Scarlet SRF microneedling work?
What makes Scarlet stand out from other radio frequency skin tightening devices is that it uses short pulse radio frequency to gently and evenly treat every layer of your skin. This RF energy naturally stimulates collagen and elastin production to lift, tighten, and continue to improve overall skin health and radiance over time.
When will I see the results of my Scarlet SRF skin tightening treatment?
You'll most likely see improvements in tightening almost immediately, but the results of restoring healthy skin will gradually be revealed over two to three months. We offer EXO|E to help speed up your healing time.
How do I prepare for a Scarlet SRF microneedling treatment?
Before coming to RejuvenationMD for your Scarlet SRF treatment, let us know if you have a history of cold sores of any kind so we can prescribe you antiviral medication to prevent flare-ups.
We ask that you come to your Scarlet SRF appointment with no makeup and wearing no contact lenses.
Other recommendations we'll include in your pre-treatment instructions include:
Avoid getting any invasive laser treatments or chemical peels for the few months leading up to your radio frequency microneedling appointment
Stop taking blood thinning medications like aspirin or ibuprofen for 10 days before your treatment
Steer clear of clinical skin care products that contain strong ingredients like retinol for 2 weeks prior to your treatment
Avoid natural and artificial tanning for two weeks leading up to your appointment
What is a Scarlet SRF skin tightening treatment like?
We'll apply a topical numbing cream to the area you're planning to have treated. Once the area is numb, your provider will treat the area to repair, lift, and tighten your skin.
The treatment may take anywhere from 15 to 60 minutes.
You should be able to return to your usual daily routine (aside from strenuous activities) the moment you step out of our office.
Does Scarlet SRF microneedling treatment hurt?
During your Scarlet SRF treatment, you may feel a warm sensation, but most of our patients report little to no discomfort during their treatments. This is thanks to the topical numbing cream we apply on the area beforehand and the fact that the treatment is much gentler than other microneedling treatments.
You may feel as if you have a mild sunburn after your Scarlet treatment, but this should only last a few days.
What are the possible side effects of Scarlet SRF skin tightening?
You shouldn't have any major sensitivities or bleeding after your Scarlet SRF like you would with most other microneedling treatments.
You may end up red with a windburned-like appearance walking out of your appointment, but this resolves in a day.
Since we always recommend pairing Scarlet with Agnes RF, it's normal to have some redness, bruising, and/or swelling for up to 10 days after your treatment, but these should gradually resolve on their own. Any visible side effects should only last a week at the most.
What treatments can Scarlet SRF microneedling be paired with?
We pair Scarlet SRF with Agnes RF in our treatment plans to deliver results much more impressive than standalone treatments.
We also combine Scarlet SRF with platelet-rich plasma (PRP) treatments to enhance PRP facials and non-surgical hair restoration results.
Is there any downtime needed after a Scarlet SRF microneedling treatment?
You'll have some social downtime after your Scarlet SRF, but most of our patients return to their regular daily activities immediately after their treatment.
Any redness that keeps you from wanting to go out in public should subside after about a day.
Your skin may feel like it's been mildly sunburned.
If you've having a Scarlet treatment to your scalp/temples, you'll probably feel a slight pulling or tugging sensation for a few days post-treatment.
For pre and post-care instructions go to "Patient Info" and click on Scarlet SRF.
To book your Scarlet SRF skin tightening appointment
Schedule an in-person or virtual consultation with one of our experienced providers to discuss your goals.
With three medical spa locations in Burlington, Bellingham, and Bothell, Washington, we're here to make Western Washington even more beautiful!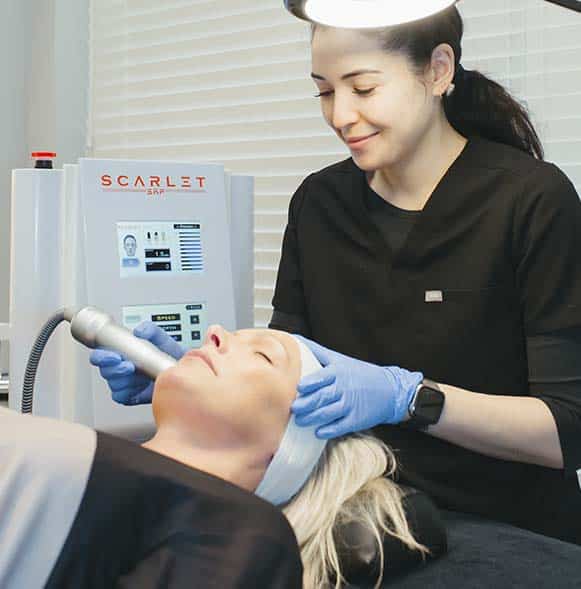 "I was impressed to see results after just one treatment. A few days after my third and final treatment my face was noticeably tighter. I had more definition along my jawline and my eyes looked lifted and brighter. Misty did an amazing job; I'm a huge fan!"