Long-lasting collagen regeneration
For over 30 years, physicians have used Sculptra® Aesthetic to correct volume loss. Sculptra is FDA-approved to treat lipoatrophy, nasolabial folds, contour deficiencies and facial wrinkles. It's a safe, biocompatible, bio-stimulatory regenerative filler made of Poly-L Lactic acid (PLLA). Once injected, PLLA triggers an inflammatory response that stimulates the development of natural collagen over the next three to six months to improve volume, resulting in a more youthful-looking appearance.
Why visit RejuvenationMD for Sculptra®?
Sculptra® is an injectable treatment that restores lost volume, lifts, and contours while improving skin laxity, tone and texture. The primary cause of an aging appearance is loss of collagen, and Sculptra® restores it.
Unlike hyaluronic acid (HA) fillers, Sculptra® is a biostimulator that encourages your own body to produce new healthy collagen.
Sculptra® is not a filler, but a natural product that dissolves over time, leaving you with beautiful, restored volume and overall more youthful, healthy skin. While Sculptra® takes time to stimulate collagen, the results are all natural and last longer than traditional filler.
After Sculptra® injections, our patients at RejuvenationMD notice improved volume, tighter skin, better tone and texture, and noticeable lift.
What can be treated with Sculptra®?
This versatile product has a wide set of possible applications. Most often, we're using Sculptra® at RejuvenationMD to:
Restore contour and volume
Reverse sunken cheeks
Correct hollowness around the temples
Reduce the appearance of neck lines
Smooth out wrinkles above the knees and elbows, crepey skin on the décolletage, and deep facial folds
How much does Sculptra® cost?
The cost of your Sculptra® treatment will depend on your recommended treatment plan.
Patients at RejuvenationMD may need 1-3 treatment sessions and anywhere from 2-6 vials to achieve ideal results. Before beginning Sculptra®, our providers will consult with you to determine your recommended dosage and treatment plan.
At all three of our RejuvenationMD medical spa locations in Bothell, Burlington, and Bellingham, we offer Sculptra® for $850/vial.
All new patients at RejuvenationMD receive a $200 credit toward any treatment, which can be used toward Sculptra®, and the ASPIRE Rewards program makes it easy to save on your favorite treatments.
When will I see the results of my Sculptra® treatment?
Unlike HA filler, Sculptra® stimulates your body to produce new healthy collagen. You will begin noticing change 4-6 weeks following your injection.
Many patients require a few sessions of Sculptra®. Results become more apparent and appreciated following each session and final results of your Sculptra® injections result four to six weeks afterward.
You'll notice added volume immediately after your Sculptra® treatment, which continues lifting and tightening the skin and restoring volume over three to six months.
What is Sculptra® made of?
Sculptra® is made of poly-L-lactic acid (PLLA), the same ingredient used in dissolvable sutures.
What is a Sculptra® treatment like?
Most people need 1-2 vials of Sculptra® injected over 2-3 sessions. We typically space your Sculptra® sessions about 6 weeks apart for best and safest results.
During your Sculptra® appointment, one of our experienced injectors will use a small needle to inject the filler.
The procedure itself takes less than an hour. We may use a topical anesthetic to minimize discomfort, but it's usually a painless process. Most patients don't feel much other than some slight pressure.
You'll be able to walk right out of our office and continue your day as usual after your Sculptra® injections.
Is Sculptra® safe?
Sculptra® has been around since 1999. It was FDA approved in 2004, originally for HIV lipoatrophy, or a loss of facial fat that causes sunken cheeks and deep creases. In that time, Sculptra® was most widely used for aesthetic applications and is now approved for the correction of shallow to deep nasolabial fold (smile lines), contour deficiencies, and other facial wrinkles.
How long do Sculptra® results last?
Sculptra® results last two years or longer. Some of our patients even continue seeing results for 3-5 years.
The most important detail in achieving appreciative, lasting results from Sculptra® is following the recommended dosage and treatment plan.
How do I prepare for a Sculptra® treatment?
When you schedule your Sculptra® appointment with us at RejuvenationMD, we'll ask your medical history and make sure you are not taking any medications that may interfere with your treatment.
For the week leading up to your Sculptra® appointment, you should avoid the following:
Fish oil and vitamin E
Blood-thinning medications such as ibuprofen or aspirin
Certain herbal supplements
Avoid scheduling your Sculptra® appointment less than 4 weeks before or after:
Getting a tattoo or permanent makeup
Dental work
Any type of surgery
Vaccinations
What's the difference between Sculptra® and Radiesse®?
Though Sculptra® is an injectable like Radiesse® its main focus is to stimulate collagen production, not temporarily replace volume immediately as Radiesse® does. Sculptra® usually requires a series of treatment sessions while Radiesse® is often provided in a single appointment. Sculptra® results last at least two years, while Radiesse® usually lasts about one year.
Sculptra® and Radiesse® are both alternative options to HA fillers and can be used to add contour and mimic bone in hollow areas.
Does Sculptra® treatment hurt?
As with any dermal filler treatment, Sculptra® injections are a quick and relatively painless process. There is lidocaine added to the product for patient comfort.
What can't be treated with Sculptra®?
Sculptra® is safe for use in most areas of the face and body. Sculptra® is not recommended or used in delicate tissue areas such as under eyes and lips.
What are alternatives to Sculptra®?
Some people have their preferences when it comes to fillers and prefer one over the other, but most deliver similar results with slight differences in their consistencies and longevity of their effects. Sculptra® stands out among its competitors, though, as it corrects and restores signs of aging through stimulation of your own collagen. Fillers temporarily replace the appearance of lost volume and contour and will dissolve over time.
What are the possible side effects of Sculptra®?
Like any cosmetic procedure, Sculptra® has some risks, but they're rare. If you have bruising or swelling after your injections, give your body time to heal. It should resolve on its own within two weeks after your treatment.
Possible side effects from Sculptra® include:
Swelling
Infection
Skin discoloration
Discomfort
Itchiness
Bumps or lumps
Am I a candidate for Sculptra®?
In general, if you have signs of aging or lost volume, Sculptra® may be the best solution for you. Sculptra® patients range from late 20's- 30s to late age. The treatment plan and amount of product recommended varies by patient.
Good candidates for Sculptra®:
Want to restore volume in the face after aging or weight loss
Want results that last longer than other fillers
Want to improve their facial contour
Understand that results are subtle
The only time this product may not be the best option for you is if you have underlying medical conditions that may affect your reaction to it, such as allergies to its components. We'll be sure to discuss your medical history with you during your consultation at RejuvenationMD to find out if it's a safe option for you.
Is there any downtime needed after a Sculptra® treatment?
Because it's noninvasive, there's no serious downtime needed after a Sculptra® treatment. You'll be able to get right back to your normal activities immediately after your injections. Avoid strenuous exercise, however, for at least 24 hours after your treatment. It's normal to have some soreness or light bruising, and our provider will walk you through post-care instructions to following your Sculptra® injections.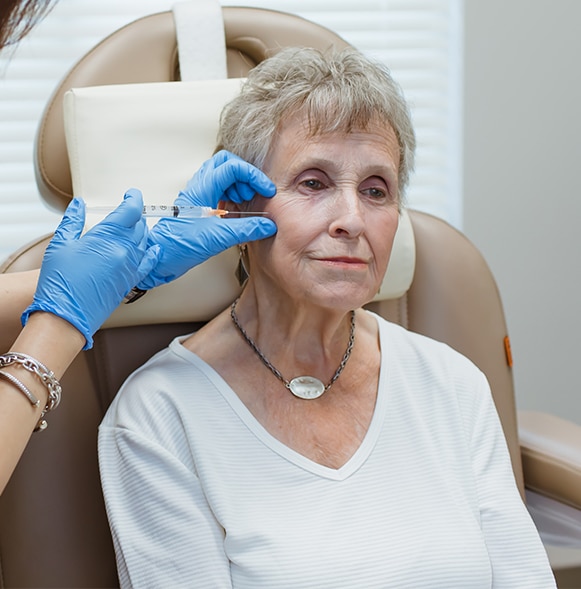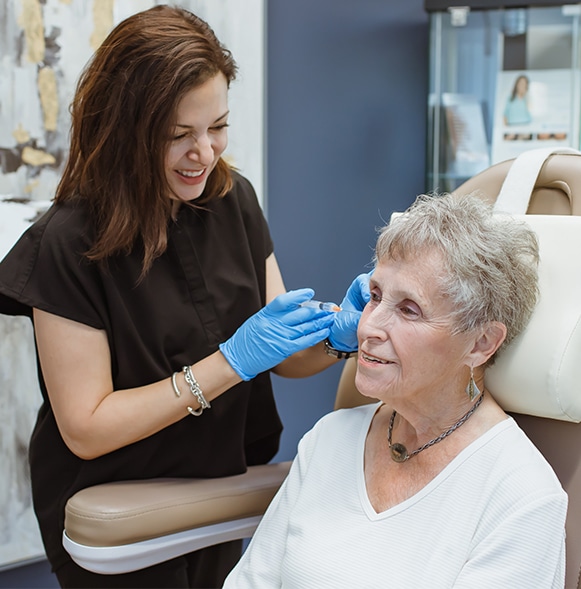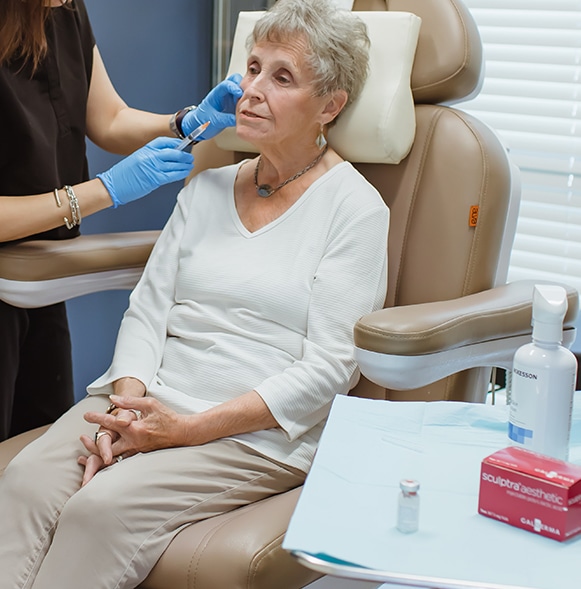 "I started losing my confidence with more pronounced hollows in my face.
Sculptra made me look so much younger and the results just keep getting better and better over time."