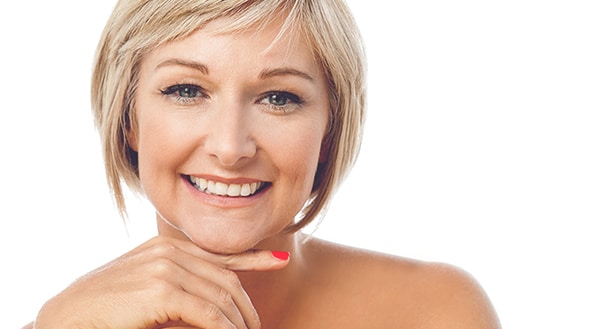 A double chin is not picky! Indeed, men and women of all ages come to RejuvenationMD® Aesthetic Skin Treatment and Wellness Center concerned about the appearance of their lower face—and are particularly unhappy with their chins. RejuvenationMD is proud to offer several options for addressing a tired chin! We now perform Kybella®, CoolSculpting®, utilizing the CoolMini applicator, and Sciton® SkinTyte II™ at our Bellingham and Burlington practices. Are you wondering which of these treatments is the right one for you? To help, we have put together a "cheat-sheet" for treating those stubborn double chins!

CoolSculpting CoolMini
What Is CoolMini?
CoolMini is a non-surgical fat removal technique that takes utilizes of the same technology behind CoolSculpting. Through a controlled cooling (also known as cryolipolysis), CoolMini is able to safely and effectively freeze and eliminate unwanted submental fat.
What Makes CoolMini Unique?
CoolMini is unique in that it takes advantage of a special CoolSculpting applicator that has been specifically designed to fit the contours under the chin. Benefits of CoolMini include:
Great for debulking larger amounts of fat accumulation

Permanent fat reduction

A 20 to 25 percent fat reduction with each CoolMini treatment
What Is the CoolMini Treatment Like?
Each CoolMini treatment takes around one hour and can be repeated multiple times depending on each patient's individual goals.
You Are a Good Candidate for CoolMini If…
CoolSculpting is a great option for men and women with moderate to large amounts of fat. Because CoolMini treats the entire area that the applicator comes in contact with, it is the better choice for patients who want a broad reduction of fat without the need for contouring.
Kybella
What Is Kybella?
Like CoolMini, Kybella is a non-surgical injectable treatment that targets unwanted submental fat. Kybella works by mimicking dexoycholic acid, a substance that is produced naturally by our bodies to absorb fat. Whereas CoolScultping causes a "thermal death", Kybella causes a "chemical death".
What Makes Kybella Unique?
Kybella is the first—and remains the only—injectable treatment to have received the FDA's approval for successful FDA fat reduction. Unlike CoolMini, Kybella allows for a more personalized treatment as it is not limited to a specific applicator. Benefits of Kybella include:
Precise contouring under the chin and along the jawline

No minimum tissue requirement and can be used for very small amounts of fat

Lasting fat reduction in the treated areas
What Is the Kybella Treatment Like?
Each Kybella treatment involves multiple injections and takes about 15 to 20 minutes to perform. Patients typically require a series of treatments over the course of several months.
You Are a Good Candidate for Kybella If…
Kybella is best for those who have smaller pockets of fat. Kybella is injected directly into the fat which makes it great for men and women looking to "fine tune" the appearance and add definition to their lower face, chin, and jawline.
SkinTyte
What Is SkinTyte?
SkinTyte is a form of non-surgical skin tightening that uses non-invasive infrared energy to gently heat the soft tissue within our skin to initiate our body's own healing response and stimulate collagen production.
What Makes SkinTyte Unique?
SkinTyte is highly effective at firming areas of loose skin anywhere on the face and body including the lower face and jowls. SkinTyte rejuvenates the lower face by plumping and smoothing the skin around and under the chin.
Long term improvement in skin laxity

Encourages better skin quality and elasticity

Safe for all skin types
What is the SkinTyte Treatment Like?
SkinTyte is performed as a series with each painless treatment taking less than one hour.
You Are a Good Candidate for SkinTyte If…
SkinTyte is ideal for maturing men and women who are concerned with loose, slack, and sagging skin around their jawline.
Love Your Chin at RejuvenationMD® Aesthetic Skin Treatment and Wellness Center
You can learn more about each of these three chin-transforming treatments by scheduling a consultation at RejuvenationMD® Aesthetic Skin Treatment and Wellness Center.