"I feel like I had a facelift but without the surgery"
-Rebecca Eberharter, Patient Care Director at RejuvenationMD
Rebecca has been a huge proponent of Agnes RF and Scarlet SRF, two non-surgical breakthroughs for face and body, and was so excited when RejuvenationMD chose to add these extraordinary devices to their treatment menu.  She says, "I've done all the research on every single machine and this is my baby!" You can see from her own before and after photos that her excitement was fully justified.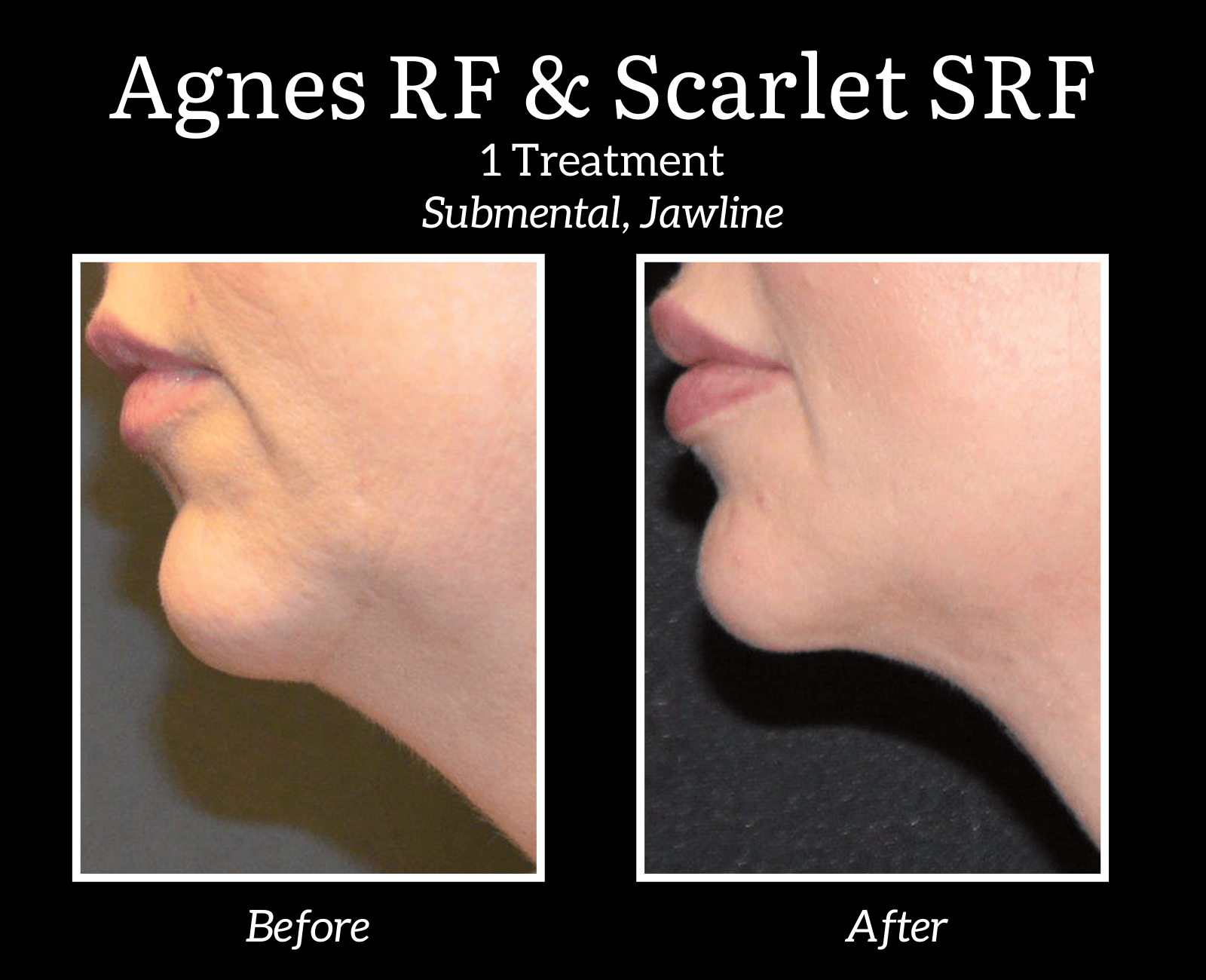 "Agnes RF and Scarlet SRF gave me back the contours of my face."
Rebecca worked in plastic surgery for years before joining RejuvenationMD and says that Agnes and Scarlet rival the surgical results she is so familiar with — without negatives like anesthesia and long recovery times.  Of course, for some patients, we do suggest they seek surgery but for the majority of our patients, Agnes and Scarlet are the perfect solutions.
She said, "For my own procedure, my face was numbed with lidocaine and I didn't feel a thing during the treatment.   There was a bit of redness right after but it went away quickly and I went right back to my life. No downtime. No scars.  No bandages."
"I was self-conscious about my jawline, double chin, and overall skin laxity."
Rebecca says something she hears over and over from patients is that they really dislike their profile because it no longer looks like their younger selves.  That was her concern too – but not any longer! She says, "I feel like I look younger.  That old cliché about turning back the clock is my story now! I feel like an Agnes and Scarlet Ambassador because I love being able to offer these fabulous options to patients. And proudly show off my face!"
"The key is that Agnes and Scarlet combine radiofrequency with microneedling – that's the magic."
As Rebecca explains it, Agnes is a very precise tool that sculpts your face, adds definition to your jawline, and diminishes eye bags.  It removes pockets of fat and volume while tightening the tissue around it. It also treats acne by eliminating the oil glands that cause the problem.
Scarlet does the smoothing, tightening, and lifting on the face and neck.  In fact, Scarlet has been called the "Instant Facelift."  It also targets virtually any skin issue like texture, pores, photo-aging, scars, and stretch marks.  And, it works just as well on the body as the face. Depending on each patient's situation, the devices can be used alone or in combination with one another.  "During the consultation, a detailed plan is recommended to achieve whatever the patient is looking for," Rebecca says.
"It's important for patients to know that Agnes and Scarlet are safe, FDA cleared, and work on any skin type."
Rebecca says, "Surgery brings up a lot of fear in patients.  But Agnes and Scarlet do the work without the worry. And, the procedure takes 30-90 minutes instead of several hours. I can honestly say that these treatments are the best available to easily beautify the face and body."  
"I personally invite anyone reading this blog to call us, set up a complimentary consultation, and explore your options. We'll be honest, explain every detail of the procedures, and recommend the path we think will make you feel like your younger, fresher self too!"