3 Minute Read: 
Everyone has a few things they do to maintain their physical and aesthetic health. You may work out, eat healthy, take your vitamins and supplements, take care of your skin — the list goes on. 
And while these are excellent choices for your internal and external well-being, are you also thinking about your sexual wellness?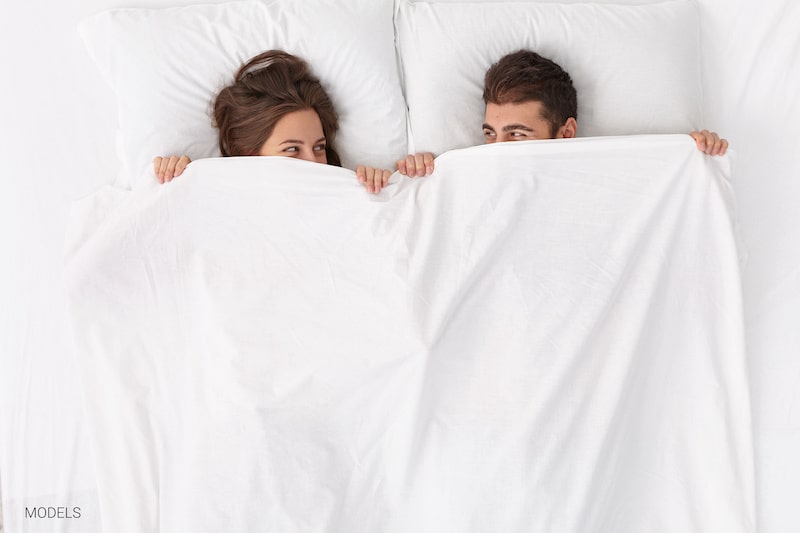 Many people tend to ignore their sexual wellness as it is an "unseen" aspect of their health — but living with sexual dysfunction and discomfort is most likely affecting your emotional and mental well-being. 
The team at Rejuvenation MD is here for you, and we're bringing sexual wellness concerns out of the dark. 
Keep reading to see how these non-surgical treatments can rejuvenate and reinvigorate your sexual health. 
What Are Sexual Wellness Treatments? 
Sexual wellness refers to the area of aesthetic medicine that supports a patient's sexual function and comfort. 
For men, this may mean treatments for erectile dysfunction, stamina loss, and satisfaction. For women, treatments may improve sexual satisfaction, vaginal dryness, and overall vaginal health. 
These treatments help patients renew and improve their sexual function and satisfaction — whether their concerns are due to age, childbirth, or genetics. Not only does sexual wellness improve physical relationships, but these treatments can bring greater self-confidence. 
Sexual Wellness Treatment for Men
If you are experiencing erectile dysfunction and looking for a holistic, natural approach, the Priapus® shot, or P-shot, is a non-surgical option that can improve your sexual stamina, function, and physical length.
Platelet-rich plasma has become the standard in natural rejuvenation — rather than relying on prescriptions to induce blood flow, PRP uses your body's natural healing properties and growth factors to restore and repair sexual function. 
How Does the P-Shot® Work?
During treatment, your blood is drawn and placed in a centrifuge to separate platelets from your red blood cells. 
After you are thoroughly numbed with a topical anesthetic, the PRP is injected into the shaft of the penis. Growth factors and PRP will generate new blood vessel formation for improved circulation. Additionally, by repairing the tissue and nerve endings, you can experience stronger erections, increased sensation and stamina, and increased length and girth.  
Sexual Wellness Treatments for Women
Be it from age, hormonal changes, or childbirth, women experience changes to their sexual health and wellness. Rejuvenation MD has multiple options for improving comfort and sexual function. 
The O-Shot® uses PRP to rejuvenate the orgasmic system, injecting growth factors into the clitoris, vagina, and labia majora. By improving the function of existing tissue and generating new tissue, blood vessels, and nerve endings, the O-shot® rejuvenates sexual function and satisfaction. 
The O-shot® can induce:
Greater arousal from clitoral stimulation

Smoother vulvar skin

A tighter vaginal opening

Stronger orgasms

Increased libido and lubrication

Less pain with intercourse
Many patients opt to combine their O-shot® with diVa® and diVaTyte® laser therapy. diVa® targets internal concerns, while diVaTyte® treats the outer labia.
diVa® uses hybrid fractional laser (HFL) technology to resurface the vaginal wall and replace damaged tissue with new, healthy tissue. 
diVa® can improve:
Painful sex

Painful penetration

Vaginal dryness

Vaginal burning and itching

Urinary leakage

Elasticity
diVaTyte® is a non-ablative treatment that heats the underlying layers of the skin to stimulate collagen and elastin, producing new, tightened tissue over time. diVaTyte® is proven to enhance: 
Function and appearance of vulvar skin

Laxity of the outer labia
Any of these treatments can benefit your sexual health and wellness, improving your sexual satisfaction, comfort, and function. 
Interested in Sexual Wellness Treatments in Western and Northern WA?
Rejuvenation MD Aesthetic Skin Treatment and Wellness Center services patients in Burlington, Bellingham, and Bothell, Washington, providing non-surgical and aesthetic treatments to better lives from the inside out. If you want to learn what sexual wellness treatment is right for you, call us today to schedule a consultation or fill out our online contact form.