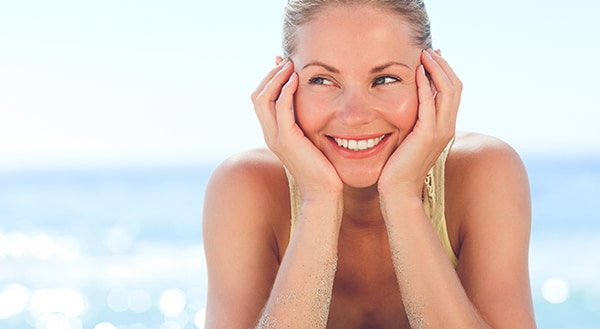 The warm days of summer are as good an excuse as any to go makeup free. However, just because you choose not to wear makeup does not mean that you cannot look great—especially with a little help from RejuvenationMD.
Start with Healthy and Protected Skin
Nothing is more important to a summer glow than healthy skin itself. Make sure to protect your skin by applying a broad spectrum sunscreen every day. We are pleased to carry ZO® Skin Health's, Oclipse®—a special line devoted to sun protection.
Accentuate Your Lashes with Latisse®
Increase the impact of your lashes without the need for mascara. Applied once a day to the base of the top lash line, Latisse promotes longer, thicker, and darker lashes. Right in time for summer, results are noticeable in just four weeks.
Minimize Frown Lines and Crow's Feet with Botox® and Xeomin®
Bright as it is, we do ourselves no favors as we squint to keep the sun out of our eyes. Repetitive movements, like squinting, frowning, and even laughing can cause fine lines and wrinkles to develop. Formulated of the neurotoxin botulinum toxin, Botox and Xeomin relax the responsible muscles found on the forehead, around the eyes, and between the eyebrows.
Highlight Your Cheek Bones with Voluma® or Radiesse®
No beauty trend as of late has been more popular than contouring. While it might seem impossible to get the same definition without makeup—dermal fillers like Voluma or Radiesse make it possible to get the same shapely contours. Softening harsh and aging lines, dermal fillers are able to restore a balanced and youthful fullness to the mid-face.
Maximize Your Lips with Belotero® or Juvederm®
Say so long to sticky lip gloss and hello to a plump pout. Soft fillers like Belotero and Juvederm can help you achieve full, voluminous lips with a natural look and feel.
A healthy summer glow is achievable without cosmetics. At RejuvenationMD, we look forward to helping you break free from makeup this summer!