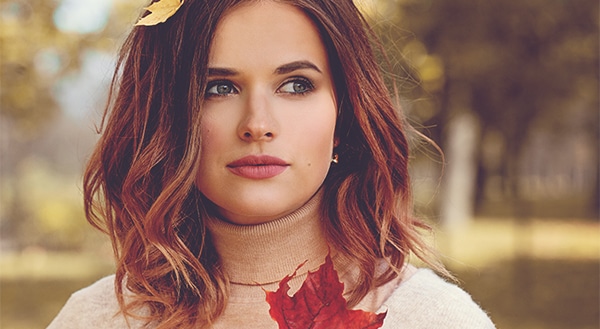 Fall is here! Our skin is especially receptive to subtle shifts in the weather outside because it is always exposed to the changing elements. As we transition from summer to fall, your skin is likely in need of a little TLC. At RejuvenationMD® Aesthetic Skin Treatment and Wellness Center, we can help your skin recover from summer and have you well- prepared for the winter ahead.

Treat Summer Sun Damage
We all know that summer can be rough on our skin. The damage from too many days spent enjoying the summer sun continues to show up during the fall and winter months in the form of sunspots, accelerated aging, or as textural irregularities. Make the most of the cooler months ahead and address summer sun damage head-on. Still fresh, recently sun- damaged skin will respond well to professional skin treatments.
Laser treatments, like Halo™ Hybrid Fractional Laser, can be used to repair sun-damaged skin. Delivering laser energy deep within the skin, Halo stimulates your skin's natural healing cycle and encourages the production of healthy, new skin cells. Halo simultaneously erases surface and sub-surface skin damage, leaving your skin looking and feeling rejuvenated. Other, more targeted treatments—such as Forever Young BBL™ (Broad Band Light)—target sunspots with intense pulses of light. Dark spots will gradually fade and, eventually, disappear.
Repair and Nourish Your Fall Complexion
Fall's cool temperatures can affect our skin in a variety of ways and especially impacts our skin's natural moisture levels. While it may seem like we get plenty of rain here in the North Sound, the air is actually much drier during the fall and winter months. A drier climate dehydrates the skin and can lend to a dull, lackluster complexion. Dry skin is also more likely to highlight fine lines, wrinkles, and other skin imperfections like redness.
Make sure to keep your skin well-hydrated with a rich moisturizer throughout the winter months—Dr. Tsitsis recommends the Enriched Bio-Therapy Moisturizer from RejuvenationMD's own skincare line. Nourishing skincare treatments, like HydraFacial MD®, can also keep your skin glowing in the harshest of weather. HydraFacial MD is a relaxing multi-step treatment that targets impurities through a gentle cleansing and extraction, and finishes with a special infusion of antioxidants, peptides, and hyaluronic acid. After your HydraFacial MD, your skin will thank you for taking such good care of it and you will love the noticeable, dewy glow!
Protect Your Skin All Winter Long
There are steps you can take to keep your skin healthy during the fall and winter months. Don't forget your sunscreen! It may seem like the sun never shines, but UV rays can penetrate overcast skies and harm your skin. Now is also a great time to see your skincare professional for your annual skin check-up—especially if you notice a change in the shape, size, or coloring of any age spot or mole.
Embrace Optimal Skin Vitality Skin Year Round
Our skin is affected by so many factors—seasonal changes being just one of them. For some of our patients, skincare can only do so much. Many men and women now have their best skin thanks in part to Bio-Identical Hormone Replacement Therapy. In addition, other treatments at RejuvenationMD's Wellness Center, like the Platelet Rich Plasma (PRP) treatments, are also able to heal your skin from the inside-out and can help you achieve a healthy complexion year-round.
Love Your Skin at RejuvenationMD
Look your best this fall and winter at RejuvenationMD Aesthetic Skin Treatment and Wellness Center! Our team of skincare experts will gladly help you with your fall skincare needs!