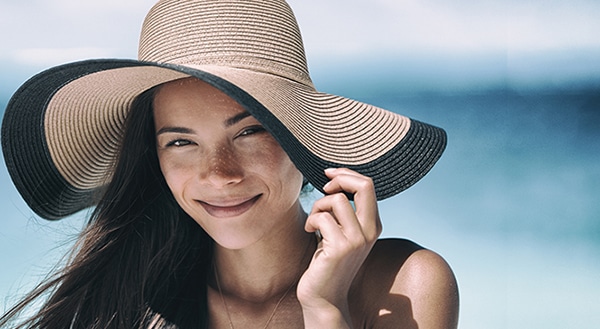 Sun exposure does a number on your skin. Summers spent in the sun, particularly without the proper protection of sunscreen, can lead to premature aging and a host of other skin concerns. This summer's impact on your skin is likely coming to the surface in the form of sunspots, blotches, wrinkles, and other aggravating signs of sun damage.
RejuvenationMD® – Aesthetic Skin Treatment & Wellness Center offers multiple treatment options to reduce the signs of sun damage.
Forever Young BBL™
The Forever Young BBL™ is a laser treatment which uses the industry-leading Sciton® Joule to deliver Intense Pulsed Light (IPL) to rejuvenate the skin. This skincare system painlessly provides improvement for a variety of skin concerns, including treatment for pigmentation issues such as sunspots, age spots, and unwanted birthmarks. The noninvasive procedure can address scarring, acne, rosacea, spider veins, and more.
Halo™ Hybrid Fractional Laser
The Halo™ Hybrid Fractional Laser comes with many benefits, because it delivers both ablative and non-ablative wavelengths during your treatment giving you great results with minimal downtime. This laser system can eliminate years of sun damage, fine lines and wrinkles, and other concerns by targeting the deep layers of skin tissue to restore a youthful glow. Skin discoloration and uneven skin texture can also be addressed with Halo™.
At-Home Skin Care
Epionce® Skincare Line
This skincare product line is designed by a practicing dermatologist and exclusively offered through doctors and other licensed professionals who focus on skincare. RejuvenationMD® – Aesthetic Skin Treatment & Wellness Center can help you identify which Epionce® product—such as the MelanoLyte Pigment Perfection Serum and MelanoLyte Tx—can help you get rid of sun damage and address multiple skin conditions.
ZO® Skin Health Line
The ZO® Medical and Skin Health line is designed by Dr. Zein Obagi to provide a variety of treatments that focus on preventive and daily skincare. There are cleansing and exfoliating products as well as acne treatments, anti-aging options, repairing peels, and serums that work not only on the face but the entire body.
RejuvenationMD® Skin Care Line
Our Aesthetic Skin Treatment & Wellness Center offers our own skincare line that uses the powerful antioxidant effects of green tea polyphenols (GTP) to protect and restore your skin. These products can improve lines and wrinkles on the neck and other areas with visibly noticeable results. RejuvenationMD® skincare products are made in the U.S., FDA-registered and use high-quality, medical-grade ingredients.
Chemical Peels
In addition to laser treatments and skincare products, RejuvenationMD® offers medical-grade chemical peels to treat cosmetic concerns such as sun damage. Chemical peels remove the surface layer of the skin (epidermis) to encourage fast cell turnover and reveal smooth, radiant, and healthy skin.
ZO® Signature Chemical Peels
These peels improve or correct hyperpigmentation, sun damage, skin texture, and a litany of common skin problems. There are three ZO® Signature Chemical Peels, which are designed to offer an option for all skin types and conditions.
Invisapeel™ Intensive Resurfacing Peel: This is a treatment that can be done in the comfort of your own home. Invisipeel penetrates the deeper layers of skin tissue to improve dull, dry skin.
ZO® Retinol Stimulation Peel™: Improves rough skin texture, lines and wrinkles, and uneven skin tone and contains retinol, a powerful ingredient to skin renewal.
ZO® 3-Step Peel™: Focuses on exfoliating the skin to provide a wide variety of complexion improvement from acne to sun damage.
VI Peel
Created to combat signs of aging and restore skin exposed to the sun and other environmental factors, the VI Peel can effectively provide smooth skin texture with an even tone and soften lines and wrinkles. Our patients in the Burlington and Bellingham areas have seen excellent results with the VI Peel for acne treatment and skin tightening, though results vary.
Epionce Mal-e and Sal-e Peel
This combination peel uses Salicylic Acid and Malic Acid to address signs of aging, skin discoloration, sun damage, and specific skin conditions such as rosacea and acne. These acids are naturally found in your body and promote collagen production for youthful skin. The Epionce™ Peel System involves four or five days of light peeling following your treatment and repeat sessions can provide significant results.
RejuvenationMD® Signature Peels
At RejuvenationMD® – Aesthetic Skin Treatment & Wellness Center, we also offer three signature peels. Our chemical peels come in three variations of intensity. The right peel for you depends on the extent of skin damage and severity of lines and wrinkles. The more intensive your peel, the more downtime needed.
Schedule Your Sun Damage Treatments at RejuvenationMD®
Sun damage can present on your skin in a variety of ways. However, we have the options to repair or combat warning signs of skin damage for any budget.
If you're interested in repairing sun damage or have questions, contact Dr. Tsitsis and our experienced staff at RejuvenationMD® – Aesthetic Skin Treatment & Wellness Center in Bellingham at (360) 685-8408 or Burlington at (360) 982-2620. We serve patients in surrounding areas of Washington State.