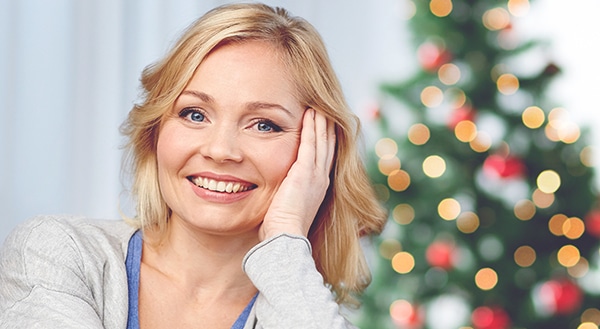 You have likely noticed that your skin has become more delicate as you have aged. Perhaps your jawline is no longer as refined due to thinner and looser skin around the chin and neck? Or, perhaps it is that the skin around your midline is not as taut as it once was?
Whether it occurs on the face or body, skin laxity is a common problem for many of our patients at RejuvenationMD® Aesthetic Skin Treatment & Wellness Center. Luckily for men and women in the Burlington and Bellingham areas, we are able to rejuvenate tired and sagging skin with the help of SkinTyte II.
How Does SkinTyte II Work?
SkinTyte II utilizes visible, infrared light energy to encourage your body's natural restorative process and create a renewed collagen foundation. Plentiful in our youth, collagen levels decrease as we age. Collagen is responsible for keeping the skin tight, firm, and elastic—as we lose collagen, our skin thins, stretches, and starts to sag.
Emitting infrared energy, SkinTyte II's small hand piece is moved over the designated treatment area to heat collagen deep within the dermis. SkinTyte II strengthens existing collagen and also stimulates the body's natural healing process to form new and healthy collagen stores.
What Can SkinTyte II Do for You?
SkinTyte II can be used on many parts of the face and body. Most popularly, our North Sound patients seek out SkinTyte II to rejuvenate their cheeks, jawline, and chin, as well as their neck. Moving on down, patients love the tightening effects that SkinTyte II can have on their arms, chest, and abdomen. By building upon the skin's natural collagen production, SkinTyte II has many age-defying benefits, including:
Tightens and firms loose and sagging skin
Softens fine line and wrinkles
Redefines a youthful contour
SkinTyte II can be tailored to address your individual needs. As a customizable treatment, it is safe for all skin types and colors.
SkinTyte II Will Have You Looking Your Best
A quick and minimally invasive treatment, SkinTyte II can have you looking and feeling your best this holiday season. There is no better gift than feeling good about yourself! Treat yourself by scheduling a complimentary consultation at RejuvenationMD.
Happy Holidays from RejuvenationMD's family to yours!