Halo Laser for Healthier, Flawless Skin
Skin health and appearance play a significant role in self-confidence. There are billion-dollar cosmetic companies banking on the concealers, pressed powders and foundations you use to cover up age spots, sun damage, acne scars, hyperpigmentation, and more. Don't get us wrong, we love our makeup! But we love it even more when it's not obligatory before leaving the house.
Ditch the Concealer and Treat the Root Cause of Your Skin Condition
RejuvenationMD is committed to helping patients treat the root cause of those skin conditions that have people reaching for their compacts. One of our favorite go-to treatments that repairs and improves the integrity of the skin (strengthening, tightening and lifting) also addresses concerns like scars, enlarged pores, hyperpigmentation, fine lines, wrinkles, and even melasma.
Halo® Pro Hybrid Fractional Laser is the world's first hybrid laser that uses both ablative and non-ablative technologies to restore skin health and give patients the freedom to feel confident in their skin sans concealer, foundation or any coverup.
What is a Halo Pro Laser Treatment?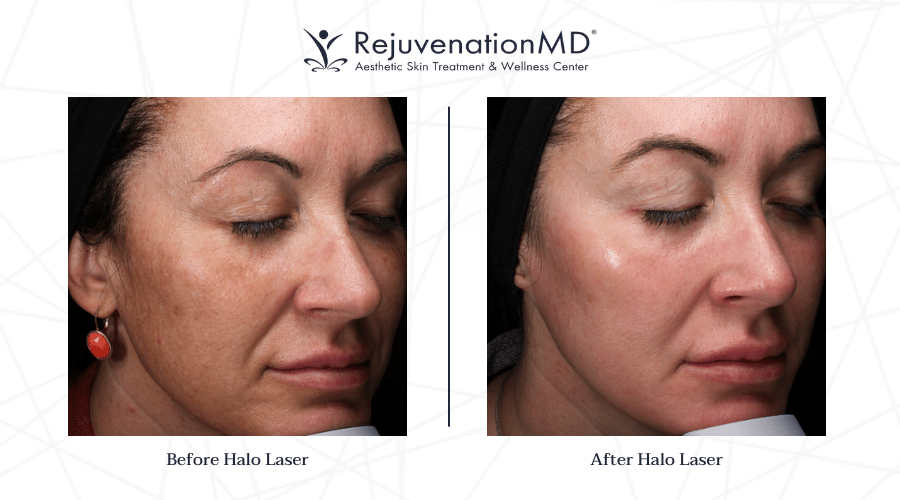 Unlike most lasers that use just one wavelength, Halo Pro uses two at the same time. One wavelength carefully eliminates unwanted patches of pigmentation. Meanwhile, the second wavelength works to resurface the skin by creating thousands of tiny channels. These channels are micro injuries that initiate the production of new tissue and collagen, improving the overall integrity of the skin, tightening, creating volume that reduces laxity, lines and wrinkles, and working to repair scar tissue and other irregularities like enlarged pores.
Treatment also calms down redness by coagulating surface-level broken capillaries and telangiectasias. One of the things we love most about Halo laser, more than not having to wear makeup before leaving the house, is that Halo treatments can get rid of early skin cancers!
Halo is safe for the entire body: your neck, chest, scalp, arms, hands, legs, and even feet — any part of the body that has been exposed to sun and is at risk for sun damage can be treated with Halo.
What to Expect from Your Halo Laser Treatment
After extensively researching the benefits of Halo laser treatments combined with exosomes (and testing the Halo-exosomes combo on ourselves), we have integrated the EXO|E Exosome Skin Revitalizing Complex into our protocols to help improve the results of each treatment.
These plant-derived exosomes are nutrient-rich nanoparticles that carry beneficial lipids, peptides, and proteins deep within the skin to restore and protect it against the aging process. Studies show exosomes target the molecular level of skin cells to support the genetic expressions associated with healing, skin barrier function and cellular regeneration.
Five days prior to a Halo laser procedure, apply the exosomes D|TOX skin serum two times a day as prescribed by your provider. This pre-treatment works to exfoliate and hydrate the skin, which has been shown to improve the comfort of the procedure.
On treatment day, your provider will measure the treatment area and assign specific settings to customize the Halo procedure to your skin, ensuring we're addressing the root cause of your skin conditions.
The entire process takes about 90 minutes, including time for numbing. We invest in specially-compounded numbing cream to improve the comfort of each treatment. Halo can be spicy, but with numbing and Pro-Nox™, it's very tolerable. Head to our YouTube page to watch the founder of RejuvenationMD, Dr. Tianna Tsitsis, show you a live Halo laser treatment.
There's minimal discomfort and little to no downtime with a Halo treatment. After the procedure, your provider will apply RE|PAIR Exosomes to minimize inflammation, and you'll be sent home with a 5-day post-care RE|PAIR kit which will hasten healing and improve your results.
Get Glowing with Halo Pro
After your procedure, the treatment area will be warm for a few hours. You'll want to plan for a relaxing evening in while your skin cools down. The following day the treatment area may be swollen and red, but follow your exosome RE|PAIR regimen to help reduce the inflammation and improve healing.
A few days post procedure, you'll notice a pattern of tiny brown spots. These are called "mends," short for "microscopic epidermal necrotic debris." It's important not to scrub them off or pick at them. The microchannels created by the Halo laser are hard at work healing. Below the mends, the body is generating new tissue, collagen and elastin.
In a week or two all of the mends will have naturally sloughed off, leaving you with clear, tight, bright, brand-new skin. RejuvenationMD recommends getting treated with a Halo in the fall or winter because it's critical to stay out of the sun post treatment to protect your brand-new skin and allow it to fully heal. This can take a few weeks. Remember, you can still get sun exposure while driving or sitting by windows. So, apply an SPF every morning and reapply at least once during the day.
After the mends are gone and your skin is healing, prepare for people to ask, "What did you do?" Patients always report the compliments they receive after their Halo treatment. This is from the elimination of sun damage and the brand-new collagen and tissue that give your skin what is famously known as the "Halo Glow."
Results That Speak for Themselves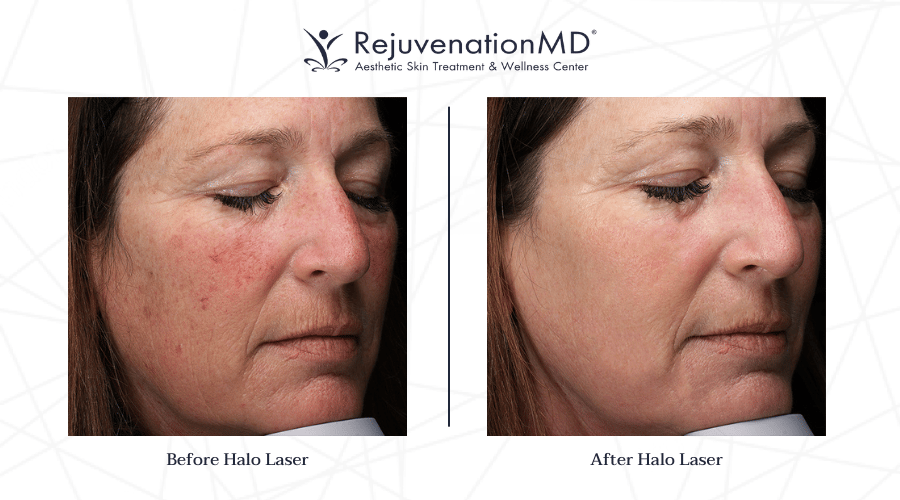 At RejuvenationMD we're fanatics about results, which is why we only choose advanced skincare technology that delivers safe and exceptional outcomes. To get the best results, we apply combination therapy whenever possible. Much like combining Halo laser with exosome therapy, we also pair Halo treatments with other procedures like Sciton's Contour TRL, BBL® Hero™, or VI chemical peels to maximize results.
As part of a healthy skin care regimen, get at least one Halo a year. If you're working with your skincare provider to reduce acne scarring or manage melasma, they may prescribe a corrective series of three treatments followed by a maintenance plan. Upkeep is critical. Remember, you wouldn't go to the gym once for four hours and expect results to last you the entire year.
It's important to note that there are med spas that have chosen not to invest in the full Halo Pro laser device. Instead, they have only purchased the non-ablative Halo laser, which will not deliver the full course of benefits. To make sure you're getting the real treatment, ask your provider if they have Halo Pro and if it can deliver both ablative and non-ablative technology. Halo Pro is a little more expensive than Halo, but the result of healthy skin is 100% worth the expense.
RejuvenationMD — Western Washington's Award-Winning Aesthetic Skin & Wellness Practice
Our team of physicians, nurses, master estheticians and patient care facilitators are committed to delivering head-to-toe confidence. From light and laser skin rejuvenation therapies to body contouring, sexual wellness, and regenerative aesthetic treatments like PRF and platelet-rich plasma, we offer over 55 different services to help our patients look and feel their best.
About RejuvenationMD

RejuvenationMD is the premier aesthetic skin treatment and wellness center in Washington's North Sound. Our award-winning practice is home to 3 female Physicians, ARNPs, Registered Nurses, and a team of Master Estheticians and Patient-Care Coordinators. Learn more online at www.RejuvenationMDMedSpa.com or call RejuvenationMD in Bellingham 360-685-8408 or Burlington 360-982-2620 today.