A few words from Dr. T-
A friend, and patient, sent me her story to share with our clients. She struggles with hormone-related melasma and hyperpigmentation from sun damage. For years she had tried "quick cures" she found online, only to be disappointed by the lack of results and the waste of time and money. Shortly after we met, she learned there are real solutions that will temper the appearance of melasma and remove sun damage. However, these solutions require disciplined lifestyle modifications and maintenance. If you're willing to put in the work, I guarantee you, you'll love the results. If you identify with this story and are searching for solutions, give us a call. If you know someone who struggles with melasma and hyperpigmentation, please share this story. When we say we're dedicated to helping our clients look and feel their best, we mean it.
From our patient:
I spent 25 summers playing and working in Fenwick Island, Delaware; a small mile-wide peninsula. Two generations of my family had made Fenwick their second home. After the school year my brother, cousins and I would head to Fenwick to spend the summer. I first began working beach stands at the age of 12; renting umbrellas, chairs and bodyboards in Ocean City, MD. I would be on the beach from 7am till 5pm, 4-5 days a week. As a child of the 80s and 90s, I grew up perceiving that tanned skin was desirable and beautiful. Even though my grandmother chided me to put on sunscreen and sit under the umbrella, she would criticize her own "ghost-white legs and pale, sallow looking face." In fact, all the women in my family claimed they looked their best when they had some sun, complementing each other for their golden tans and bronze skin.
In high school, during the winter, I'd go to tanning beds with my friends to try to keep my golden coloring. I also began taking birth control to try to manage the extreme cramping and ovarian cyst ruptures. I was oblivious to the fact that my 'fun in the sun lifestyle' and hormonal birth control would result in hyperpigmentation later in life. I had freckles on my nose and across my cheeks from bouts of sun poisoning over the years, but in college I began to see mild brown blotches in certain areas on my face that I'd hide with concealer, foundation, and powder. By the time I hit 32 my hormones had really changed, and even though I had been living in Washington for 7 years, spending minimal time in the sun, the sun damage from my years at the beach began to surface, and so did my melasma. Anyone looking in my direction could blatantly see what I called my "Gorbachev" a forehead marking of hyperpigmentation.
I had dark brown blotches angled down the side of my face below my cheekbones and what looked like a sunglass tan on my cheeks. The area around my eyes was clear likely from wearing sunglasses. Being a beachy, more carefree girl, I cared about my appearance but it wasn't anything I obsessed over until my face was covered in dark brown splotches. My grandmother always said my carelessness would always catch up with me, and boy did it! By 2013, I became extremely self-conscious about my appearance, friends and family were asking what was wrong with my skin and I tried everything I could get my hands on to help lighten the dark spots.
Then in 2014, I met Dr. Tsitsis who implored me to try her program to help temper my melasma and treat my sun damage. I was worried about the cost, I worked too much, it felt self-indulgent…I had lots of excuses, and I was still a beach girl at my core and wasn't ready to think about giving up the sun, though I badly wanted to look like myself again. By the end of 2015, I took the leap and called Dr. T for my first Halo™ Pro fractional laser treatment.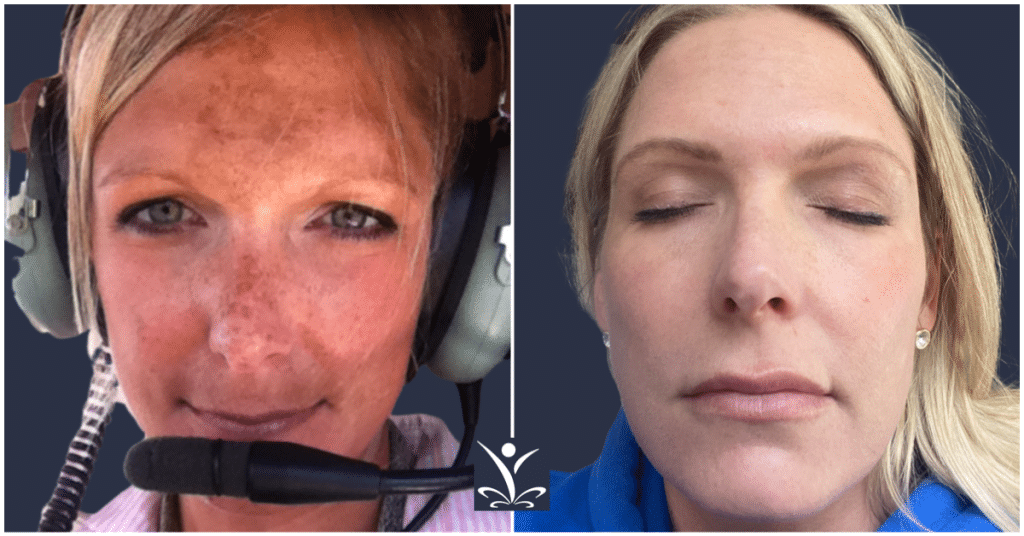 I could NOT believe the results from just 1 Halo treatment! My skin was clear & glowing and I looked like me again. I felt so much more confident in meeting new people, knowing they weren't secretly wondering what happened to my face while we were talking. But, a few months later I went to Sayulita, Mexico. I did put sunscreen on in the morning, but I didn't reapply as often as necessary, nor was I consistent about wearing a hat and staying under the umbrella. While the pigment reappeared, it was not as prominent as it was before my first Halo, but I was back to covering up with foundation, concealer, and powder.
Dr. T was more than gracious when I came home and saw her. Over the next few years she and Andi, one of RejuvenationMD's master estheticians, who is a melasma, sun damage nerd, kept showing me results of clients who had transformed their skin by following— and sticking with— the RMD Hyperpigmentation protocol. I was finally ready to commit to being disciplined enough to make Dr. T's program work. Now almost 40, I'm trying everything to maintain a youthful appearance and the skin is the first thing people notice. After all, no one should have to put concealer on at 5am before their Barre3 class knowing they'll have to wash it off in 90 minutes to shower and get ready for work and do it again! Getting serious meant I needed to to take self-care seriously.
I began using the Epionce® Lytic Tx and the MelanoLyte Pigment correcting serum, and Dr. Vakil put me on Andi's schedule for a Halo treatment (accountability is priceless). Andi was wonderful, numbing me and setting me up with Pro-Nox™ to keep me comfortable. She explained the Halo Pro— a fractional laser that uses ablative and non-ablative wavelengths to maximize results. There was a bit of discomfort; it was hot, but the numbing cream, Pro-Nox (nitrous) and Zimmer machine (icy air) made everything doable. Treatment was maybe an hour at most. We laughed and talked and I learned a tremendous amount about Halo Pro and hyperpigmentation. At RejuvenationMD, Dr. Tsitsis sends her team to meet with experts all over the country to learn about the best treatment protocols.
After the treatment I was swollen for a day and a half, then the swelling went down and the healing process began. As the pigment rose to the surface, I looked like I had a bunch of tiny dark freckles on my face. As the pigment began to flake off, I couldn't believe how clear my skin was. I am always the person behind the camera, but as I've healed, I've felt a surge of self-confidence and comfort in my appearance. It's been years since I felt comfortable sharing a picture of myself without the right lighting or settings, or that didn't have slight touch-ups with FaceTune. It's been years since I've been able to leave the house without concealer, foundation and powder.
My heart literally overflows with gratitude for Dr. T and Andi, and all of the women at RejuvenationMD who have never judged me, never pushed me, always encouraged me to feel confident in myself. I have two more treatments to go to follow Dr. T's recommended melasma protocol and I intend to share my journey, so those who are struggling with sun damage and melasma can read about a real-life experience. Words can't describe how it feels to have clear skin again!
Contact RejuvenationMD® – Aesthetic Skin Treatment & Wellness Center Today
If you are interested in skin treatment options, contact Dr. Tsitsis in Bellingham at (360) 228-3953 or Burlington at (360) 228-3871. RejuvenationMD® – Aesthetic Skin Treatment & Wellness Center serves patients in the surrounding areas of Washington State.